Wrestling Referee Files PRP Petition as WA Prosecutor Roe "Obstructs Justice"
By Edward Snook & Ron Lee
Investigative Reporters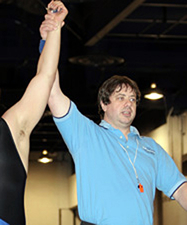 Referee Brian Garvie 
Snohomish County, WA – Imagine for a moment, if you will, that you are in prison. You're there for one of the most heinous crimes anyone can be accused of, and you are, in fact, innocent. You see, you were a wrestler, and after a severe knee injury, a wrestling referee. You loved the sport and being able to mentor the young wrestlers in your community, especially those who were having trouble in life. You had been likened to being everyone's big brother. 
One night you allowed two of these troubled youth to spend the night at your home – it's your first mistake. Because of the pain in your knees you take some strong, yet effective, pain medication and head off to bed leaving the two youth unaccompanied – your second mistake.
While you were sleeping, one of the boys, Patrick O'Neil, who just happens to be a former WA State champion, "rapes the other young man", Steven Atter, who is semi-homeless at the time. According to Atter, O'Neil then, "messes" with you while you're "out" by taking sexually explicit pictures in what could be considered a professional "Set-Up" and then places the pictures on your computer.
When you find out what happened you confront the young "rapist" and the next thing you know, he has gone to the police and accused you of sex abuse. The police immediately place the blame on you, because you are the "Adult." They start their one-sided investigation, ignoring your story. When other young wrestlers, including Steven Atter, try to tell the police that it was O'Neil who molested them and many others and that you would never do anything out of line with any of them, the police ignore this extremely relevant and valid evidence. 

DA Mark Roe
A corrupted prosecutor named Mark Roe becomes involved. 
In your third mistake, you hire an allegedly incompetent, thieving attorney named John Crowley, and the news media start their false, yet sensational stories about the "Monster who rapes children" and your life begins to take an uncontrollable, downward spiral that you can't stop – all for a series of mistakes, none of which were crimes.
It plays like a movie, doesn't it? A sick, twisted tale of deceit, where you are the innocent victim. Sadly, this is the true story of Eugene Brian Garvie, who has had to endure this miscarriage of justice since 2006. 
Enter the US~Observer
In what can be described as a break in the case, the US~Observer began investigating and found more than enough evidence that proved O'Neil was the sexual predator and not Garvie, and in the article "Wrestling Champ O'Neil – Serial Rapist? Innocent Referee in Prison?" we outlined our case of Garvie's innocence – the bombshell being, of course, the statement of the supposed victim himself, Steven Atter. There were also several other people who stepped forward claiming to be sexually abused by O'Neil and also that there were as many as 100 other victims. We made all of our evidence available to Snohomish County Prosecutor Mark Roe's office, who should have pursued O'Neil and applied this information to Garvie's case. But what came of it – Nothing!
Then we ran our follow-up, "'Serial Rapist' Headline Brings Silence," and again we were met with… silence. Not one person stepped forward in objection or denial of anything that had been written; no demand for retraction or lawsuit claiming libel was received. That in itself can be offered as proof that if it were untrue, Edward Snook and the US~Observer would have been sued long ago. It proves, as well, how depraved and destructive the criminal justice system in Snohomish County, WA is – to let an innocent man rot in prison while the real perpetrator is free, and according to US~Observer sources (up to 6 months ago) is reportedly snorting cocaine and still raping other young men.
Garvie's Legal Options
Garvie was sentenced to 158 months to Life at his sentencing by Snohomish County Superior Court Judge Thomas J. Wynne on August 1, 2007, after Garvie gave in and agreed to a coerced plea deal. The plea agreement was deceitfully crafted by Snohomish County Prosecutor Mark Roe's office and Garvie's then attorney John Crowley. Biased and prejudiced Judge Thomas Wynne rubber-stamped the corrupt agreement. 
In short, Garvie wanted to enter an "Alford Plea," which means that the defendant is pleading guilty because he believes he can't win at trial, yet wants to maintain his innocence. Garvie plead to 4 felony counts of sex abuse, when he had no idea whatsoever that he would eventually be forced to admit his guilt or remain in prison for life.
At sentencing, Garvie stated, "Yes, I have something to say, Your Honor. For the record, I'm taking advantage of the plea because, with the allegation and lack of testimony from my witness, I feel I will be convicted. I see it as my best course of action. I am maintaining my innocence." (Ex. H, Sentencing Hearing, at 5-6.)
WA State CrR 4.2(d) provides: "The court shall not accept a plea of guilty, without first determining that it is made voluntarily, competently, and with an understanding of the nature of the charge and the consequences of the plea. The court shall not enter a judgment upon a plea of guilty unless it is satisfied that there is a factual basis for the plea." Judge Wynne has absolutely no excuse for accepting the plea. 
Without question, Judge Wynne violated the law, Prosecutor Roe conducted a false and malicious prosecution and Garvie's own attorney did nothing to help his innocent client.
Brian Garvie is now represented by a highly qualified Attorney from Spokane, WA named Ken Kato who on November 4, 2014 filed a Personal Restraint Petition (PRP) with the Court of Appeals Division 1, of the State of Washington. The US~Observer has closely reviewed the Personal Restraint Petition that Kato prepared for Garvie and we find it to be, not only sufficient but, expertly drafted. The only question is, will the Court of Appeals cover-up for Judge Wynne's corrupt acceptance of Garvie's extorted plea or will they hold Judge Wynne accountable?
The System's Obstruction of Justice?
In the article "Wrestling Champ O'Neil – Serial Rapist? Innocent Referee in Prison?," we told how eye witness Steven Atter had been threatened and basically told to remain silent regarding the truth about this case or he would be "imprisoned." Well, Atter did not remain silent and he is currently in jail. Is this a coincidence? We are informed that people are currently attempting to place money on his inmate account to enable him to make calls and that Snohomish County Prosecutor Mark Roe or those he is directing have intercepted the funds in an effort to silence him. 
Further, we were recently informed that a person involved with the Garvies has been contacted by a detective for "questioning". This person reportedly refused to cooperate, however, we were subsequently told that because this person was afraid of retaliation by police that they turned on Garvie. This person called our office and threatened that if we used their name that they would assist the prosecution (they would have to lie to assist). After a minor investigation we learned they intended to twist the fact that Ralph Garvie has assisted Brian's main witness financially, into the misconception that Mr. Garvie was paying for Steven Atter's testimony, when nothing could be further from the truth. Mr. Garvie has helped this person financially as well as many indigent people who he felt compassion for, especially those victimized by the corrupt legal system in Snohomish County, WA. I know first-hand that Ralph Garvie never paid for any testimony as I was the person who questioned Atter and recorded his unsolicited statement. I also know first-hand that both Ralph and Brian have assisted numerous people with food, shelter, etc., in the past.
We just received a threatening letter that this person sent to Brian in prison. After speaking with this individual and being told of their fear of the system, we have agreed to withhold their name from this publication. Publishing their name would actually serve no purpose whatsoever. What a tragedy, when an individual fears their legal system!
All in all, Snohomish County District Attorney Mark Roe is plenty worried after reading Kato's PRP and he is reacting as any cornered "criminal" would – he is attempting to obfuscate the truth. 
It is highly recommend our readership get on the computer and read the entire history of this case at www.usobserver.com. You can find the articles by searching for Brian Garvie on our site search. You will be shocked and most likely find that this is probably the most alarming and tragic story you have ever read – one that not only reads like a movie, but will most likely end up being one. The ending, however, has yet to be written. It will either be an inspiring film about how an innocent man was vindicated, or a tragedy describing how the system fails the innocent and lauds the truly guilty.
Editor's Note: Have information? Contact Edward Snook at 541-474-7885 or by email at editor@usobserver.com