By Joseph Snook
Investigative Reporter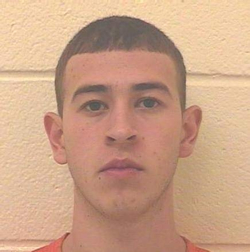 Armando Garcia
The Dalles, OR – The State of Oregon has a problem, make that two problems – Wasco County District Attorney Eric Nisley and his Chief Deputy District Attorney Leslie Wolf.
In July 2012, Oregon State Police (OSP) Detective Lori Rosebraugh brought them a case in which 15 year old Kelsey Floyd accused her 17 year old boyfriend Armando Flores Garcia of rape and sodomy. The case was unusual because the state had Facebook messages between the two in which Floyd had said how much she enjoyed having sex with Garcia. Normally, messages of that sort would put the state on notice that any and all sex was consensual.
In this case, the state chose to ignore the clear implication from Floyd's own words. First, Detective Rosebraugh and then the prosecutors played out their obvious façade when they appeared to believe Floyd when she said she was forced to put her mouth around Garcia's penis and that she was forced to engage in sexual intercourse the first time.
The fact that Kelsey Floyd's father, Courtney Floyd, is a Wasco County Sheriff's Deputy almost certainly influenced Detective Rosebraugh and the prosecutors.
One puzzling question is, why was the case referred to an OSP detective instead of a Dalles Police detective? Garcia and Floyd both live in The Dalles. The Dalles Police Department is primarily responsible for investigating crimes alleged to have been committed within city limits. There are two possible answers to this question. One, The Dalles Police Department hires incompetent detectives; two, Detective Rosebraugh could be relied on to make Floyd look like a victim and thereby protect her and her father's reputations. The US~Observer believes Detective Rosebraugh's primary goal was absolutely about protecting reputations.
Kelsey Floyd
The state's case weakened as the January 2013 trial date approached. Floyd reported that her memory had changed as she continued with weekly victim counseling. This tactic is common-place in most false sex abuse cases. She reported that she had not consented 3 more times than the first time she and Garcia had sexual intercourse. According to defense Attorney James Leuenberger, "It is axiomatic among trial attorneys that changed stories weaken a witness' credibility." At this point more motions were filed that continued the case until April.
The state's case was weakened again as the April 2013 trial date approached. Floyd added a new story of forced sex. The new story was that Garcia had forced his fingers into her vagina and forced his lips and tongue onto her vagina after she had invited him into her father's bedroom one night after her mother had fallen asleep (father and brothers were out camping). Based on the newest version of the story, the state sought and obtained a new indictment alleging unlawful sexual penetration and sodomy (cunnilingus) for this event.
Trial was postponed from April to July because the state was unhappy that the court had granted the defendant's motion to present the Facebook messages at trial. Immediately after the court granted the defense motion, the state said it would appeal that decision. The appeal would have delayed the trial by at least a year, had the Oregon Department of Justice agreed to accept the appeal. At this juncture the US~Observer entered this case.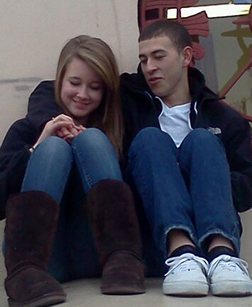 Kelsey Floyd with former boyfriend Armando Garcia
The US~Observer investigated and found that Garcia was not guilty. We published the facts in May 2013. Our prior article on this case can be found on-line by conducting a word search for Armando Flores Garcia.
Many emails and calls were received with crucial information in this case and many people stepped forward with their support for Garcia. Numerous Wasco County citizens spread US~Observer newspapers throughout the county, exposing the truth about the false charges against Armando Garcia.
Once the DOJ got a good look at the issue, they decided to not appeal the trial court's decision to allow the defense to present the Facebook messages.
Shortly after the DOJ declined the appeal, the case was scheduled for trial.
In the mean time, while the DOJ was deciding whether to appeal or not, DA Nisley told Presiding Judge Paul Crowley that Judge Janet L. Stauffer was prejudiced against the state and should not preside at a trial. DA Nisley then filed a formal motion for Judge Stauffer to recuse herself from the case. Judge Stauffer refused to recuse herself, the defense opposed the motion, and an independent judge from Multnomah County denied Nisley's motion.
The state proceeded to trial even though it knew that the trial would be very embarrassing to any normal girl. The state's theory and argument at trial was, "no means no, no matter when or how said."
The defense argued that when "no" is coupled with laughter and conduct such as going to a boy's bedroom, the "no" no longer means "no." This common sense argument was actually brilliant legal work conducted by Leuenberger.
At trial Floyd testified that Garcia forced her to have intercourse after she voluntarily went to his bedroom instead of school, voluntarily got into bed with him, and was voluntarily spooning with him. She testified that she did not want him to pull down her pants and put his penis in her vagina. Her credibility was undercut by another girl who happened to enter the bedroom later that day. The other girl testified that immediately after she backed out and closed the bedroom door she heard both "Garcia and Floyd laugh."
At trial Kelsey Floyd also testified that on a different occasion when she and Garcia had intercourse 4 times in one hour, she consented to the first 2 times but not the 3rd or 4th times. She said that she got sore and did not want to continue having sex. Her credibility was again undercut by two friends who saw Garcia and Floyd after the love making session and testified that Floyd "glowed." The two friends also testified that Floyd did not act sore or unhappy.
Because Garcia had waived his right to a jury trial, the case was tried before Judge Stauffer. Judge Stauffer did not explain her reasoning behind her decision at the end of the trial. She said only that the state had not met its burden of proof for any of the charges.



Defense Attorney




James Leuenberger




District Attorney




Eric Nisley
On August 27, 2013, justice was served. Judge Stauffer found Armando Flores Garcia innocent of all charges. Justice required a very brave defendant who insisted on a trial even though he could have been sentenced to more than 20 years for this first offense because of Oregon's mandatory minimum sentencing laws. Justice required defense Attorney James Leuenberger to work very hard and very long for a client he was convinced was innocent. Leuenberger should be highly commended as most defense attorneys who have an innocent client lose sex abuse cases at trial and their client ends up in prison. Justice in this case also required a brave Judge Stauffer who refused to be intimidated by a bullying District Attorney and who weighed the facts and law fairly and impartially.
Even though Armando Garcia has been vindicated, we are left with one major and continuing problem; why aren't those responsible for bringing false charges against Garcia also responsible for removing the negative records that have and will most likely continue to harm this young man's public records identity.
Deceased Ashley Marie West's Father Gary West
The US~Observer is apparently the only entity demanding such accountability, by providing the facts to the "Court of Public Opinion." We have cleared Garcia's name publicly, now that public needs to demand that "public records" laws are changed.
DA Nisley and his Deputy Leslie Wolf need to be sanctioned for this malicious and false prosecution. If these corrupt individuals were required to pay for their unjust actions, they would think twice about attempting to falsely prosecute in the future. Paying for Garcia's defense costs would be a great place to start.
Editor's Note: The US~Observer has a strong message for Wasco County District Attorney Eric Nisley; we are documenting every case of corruption that you involve yourself in and we have been doing so for quite some time. Nisley is greatly mistaken if he thinks he will continue to get away with his absolute corruption forever.
Remember Ashley Marie West Eric Nisley? Do you remember how you "illegally took her from her exemplary father when she was 14 years old?" In case you haven't heard, Ashley Marie was recently found dead in a motel room in Rock Springs, Wyoming. She was 26 years old DA Eric Nisley …