By Edward Snook
Investigative Reporter

Josephine Co., Oregon – On July 8, 2005, strip club owner and "criminal wanna-be" Richard Larry Lacey (Larry Lacey) paid a visit to the US~Observer office to intimidate the Observer with lawsuits and expound on his new "partnership" with attorney Claud Ingram.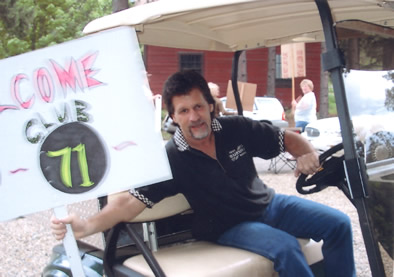 Richard Larry Lacey (above) Claude Ingram (below, right)
Ingram is an incompetent, yet destructive attorney who has been using the legal system to stalk the Observer for over three years.
Ingram has also filed many frivolous lawsuits against innocent victims and has failed to represent numerous clients properly, which has gained him 20-plus Oregon State Bar complaints.
After years of dealing with frivolous lawsuits filed by corrupted attorney Claud Ingram of Eugene, Oregon the US~Observer finally obtained the proof (Lacey's admissions at our meeting) needed to expose Ingram's malicious and fraudulent use of Oregon's state and federal court system.
Three years ago Ingram sued the US~Observer in federal court for publishing public record in Gunter v. Turnbow. Since, Ingram has filed three more of the unfounded suits (none of which have received a trial) against the Observer to stop us from exposing his blatant and vindictive abuse of innocent victims by filing manufactured lawsuits against them. Ingram has sued people for simply showing up in court to support recipients of his suits and he has even sued people who were not even present, claiming they were.
At our meeting Lacey stated, "I have been working with Claud Ingram for months." He then made it clear his involvement in the lawsuits filed and to be filed would depend directly on whether or not the Observer continued to publish articles on his strip bar (Club 71) located in Sunny Valley, Oregon. Lacey stressed that Ingram would sue anyone for him and that he could "produce witnesses" whenever needed.
Lacey promised that he would sue Sunny Valley, Oregon protestors (which he has now done) who have been picketing Club 71 (strip joint) in opposition to what they consider to be smut. The protestors are concerned that the strip club will become a magnet for crime, which credible evidence obtained by the Observer validates.
After 30 minutes of discussion with the arrogant and threatening strip club owner, he went to his vehicle and brought me our fourth lawsuit from Claud Ingram. Upon reading the ludicrous lawsuit, most of which the Observer isn't even a party, we find that Ingram and Lacey are using Hugh Powers, an elderly man and cult follower of Lacey to come against the Observer in an attempt to silence our publication.
The suit alleges that Powers paid the Observer certain monies and that there was no favorable outcome from the payment. The fact is that Powers had been hand carrying jugs of water to his Wolf Creek, Oregon home for over three years due to a property line dispute wherein his neighbors had fenced his well off and shut it down (go to usobserver.com and click on Oregon Observer).
In short order, after hiring the Observer, Powers filed a summary judgment motion in Circuit Court and likewise so did his neighbors and the person who had sold them their property. Hugh Powers was Plaintiff in this case (Case No. 01-CV-0344) and James Gephart, Susan Loeffler, Kurt Loeffler and Dennis James were the Defendants. The Defendants were represented by various attorneys, while Hugh Powers went to court with only the US~Observer supporting him. Remember the claim attorney Ingram made in this current lawsuit against the Observer; "There was no favorable outcome" from the money Powers paid the Observer. Now let's see how the judge ruled in the case. "Plaintiff's (Hugh Powers) motion as to his reformation claim with respect to the deed from Gephart to Plaintiff is granted. Loeffler's motion, cross motion for summary judgment on the reformation claim is denied." On May 17th 2002, Circuit Court Judge Rebecca G. Orf ruled in Hugh Powers favor and two days later his well water was turned back on. Does this make attorney Claud Ingram a liar? Indeed, Ingram is a blatant liar and lies literally fill the pages of the frivolous lawsuits that he files. Powers stated to numerous witnesses that the Observer "saved his life" and he was a staunch supporter of the Observer until meeting strip joint owner Larry Lacey.
Lacey/Ingram Conspire Against Protestors?
On July 29, 2005, Claud Ingram filed his first frivolous lawsuit against the protestors using Glendale, Oregon resident Gregory Allen Staten as his Plaintiff. In this suit Ingram is suing 14 people and as is customary for him he has added "Does 1 thru 50," meaning he can add an additional 50 people to the suit. The suit claims "Intentional Infliction of Emotional Distress and False Light."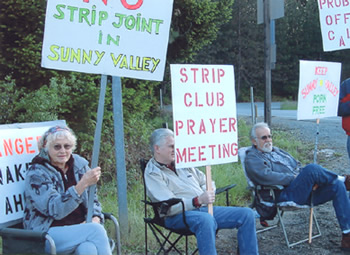 Club 71 protestors.
Staten, a friend of Lacey and patron of Club 71 is claiming that those protesting the Club blocked the road to the Club and stood in front of vehicles to keep them from entering. Staten further claims that protestors shouted vile and obscene words at him and his friends, and that they blinded him by taking his picture with a "flash camera." He also claims they assaulted him. These claims are outrageous lies manufactured through the conspiracy of Staten, Lacey and attorney Claud Ingram. The Observer has watched the protestors carefully and our coverage shows that Gregory Staten did exactly what he is claiming the protestors did. Staten committed an assault and Staten and Lacey are the low-life's who have used vile, obscene and vulgar language, much of which has been directed towards women. One would think that Ingram and Lacey could at least be a little more creative…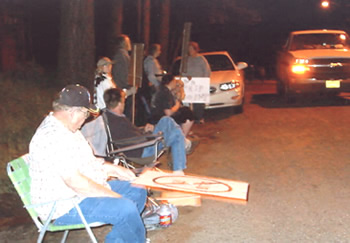 Strip club picketers peacefully gathering in protest over Club 71.
Staten's other claims against protestors are merely claims against rights well protected under the First Amendment to the US Constitution. On one occasion Staten informed certain protestors that they had made him famous. Sound like a damaged person? Sound like Emotional Distress? Or, do Staten's actions scream of a conspiracy?
Lacey/Ingram File Second Frivolous Suit
The co-conspirators filed their second lawsuit against protestors on August 5, 2005, using Larry Lacey as the Plaintiff.
The second lawsuit claims much the same as the first suit. Lacey is seeking $700,000 in damages, an excessive amount, which is a tactic used by Ingram in his frequent attempts to intimidate and scare his targeted prey into quick settlements. Ingram's victims, more often than not choose to settle the frivolous suits he files against them as they are unable to pay the thousands upon thousands of dollars required to defend the suits.
Observer Investigation Condemns Larry Lacey
The Observer's investigation has uncovered the following well-founded allegations regarding Richard Larry Lacey.
Lacey has been accused of attempting to run over protestors on two separate occasions. The first incident resulted in Lacey being charged with reckless endangerment by Josephine County District Attorney Steven Campbell. Lacey's trial on this criminal charge is scheduled to take place on November 1, 2005.
On another occasion witness's state, "Lacey drove his golf cart with no headlights on at Linda Gelwick who was walking with a cane in the parking lot of the Applegate Trail Cafe and would have struck her had she not dodged him." According to the Josephine County District Attorney's Office the case is still under review.
According to witnesses, Lacey assaulted a female stripper and has been verbally and physically abusive to numerous employees. Lacey has been accused of paying past employees "under the table" and in one instance he refused to pay an employee. The employee took Lacey to court and obtained a $3,600 judgment against him.
Credible evidence shows that Lacey initiated plans to purchase a Limo for the purpose of transporting "friends and customers" of his from the Medford airport and the city of Grants Pass to his club. According to managers of Club 71, Lacey claimed that he was going to provide girls on these trips so they could perform oral sex on those being transported.
Elderly women have come forward with stories of Lacey confronting them with threatening, vile and obscene language.
Lacey has threatened the demonstrators with physical harm and on one occasion threatened to sell his club to the "Russian Mafia." According to eye witnesses Lacey stated, "These people won't be as nice as me."
Richard Larry Lacey had a fire in January of 2005, which destroyed a house on property adjacent to Club 71 and owned by Lacey. The fire was ruled a suspected Arson. After the fire, a fire marshal informed Lacey in writing that he was to cordon off the area for a period of time to allow inspectors to investigate. Witnesses state that Lacey told them he wadded up the piece of paper, tossed it at the marshal and the very next day he bulldozed the sight. Lacey also stated several times to his manager and others that he knew the real cause of the fire… Apparently Josephine Co. law enforcement started their vacation when Lacey opened his club and they have been enjoying their time off ever since.
The US~Observer has received a video taken on Saturday, August 27, 2005, showing Lacey "directing" a group of intoxicated, vulgar males who are shown screaming vulgarities and exposing their private parts in the parking lot of Club 71. The individuals are shown using the F… word repeatedly as they flip their middle fingers and yell obscenities in front of women at the strip joint. According to witnesses, "one young patron pulled his pants down, clearly exposing his genitals as he urinated in front of two elderly women who were peacefully protesting." The males confronted one protestor and assaulted him as Lacey watched. Lacey can be seen smiling as the intoxicated patrons rip the sign from the protestors hands during their attack. Knowing that the incident was being recorded, Lacey drove the perverted drunks off the premises and then turned the vehicle over to them so they could drive themselves (drunk?). Lacey must have thought that this act would show responsibility on his part; however it merely enhanced is reputation of deceit.
Club 71 has been associated with several drunk driving citations and on one occasion a person got falling down drunk at Lacey's smut establishment and then went onto the I-5 freeway where he caused a near fatal car wreck.
The list goes on and on…however the bottom line is that Lacey is certainly not a positive member of our society. Lacey is a black mark on Josephine County, Oregon's reputation and he and his establishment should be relocated permanently.
American Family Association (AFA)
Defends Protestors
The American Family Association (AFA) Center for Law and Policy, located in Tupelo Mississippi has agreed to defend the protestors against Ingram, Lacey and Staten.
The AFA has a membership of 2,181,675. "The Center for Law & Policy is headed by Stephen M. Crampton. The Center responds to the requests of Christians for legal representation involving first amendment free speech and free exercise rights as well as the constitutional issues involved in the continuing battle against pornography and obscenity. Senior trial Attorney Brian Fahling and Senior Litigation Counsel Michael DePrimo will orchestrate and litigate the cases."
The Center for Law & Policy was established in 1990, and is the legal arm of the American Family Association, Inc.
The US~Observer is represented by Attorney Foster Glass who is currently preparing a countersuit and third party complaint against Powers, Ingram and Lacey.
It is more than apparent that the Josephine County Sheriff's Office and the Oregon Liquor Control Commission are failing miserably concerning their responsibility to protect the public against Richard Larry Lacey's criminal enterprise called Club 71. The US~Observer would warn these incompetent entities, and all other agencies and individuals responsible, that all corrupt and vile acts associated with the Club are well documented and the entire populace will be well informed of those who shirk their responsibilities.
The Observer urges anyone with information on Ingram, Lacey or Gregory Staten to contact us at 541-474-7885 or email us at editor@usobserver.com.