By Edward Snook
Investigative Reporter 

John Goodman
© The Palm Beach Post/ZUMA
West Palm Beach, Florida – We reported recently that "Polo Mogul" John B. Goodman is factually innocent. In our article titled, Florida's John B. Goodman NOT GUILTY we provided documented proof of corruption, both in the literal manufacturing of the case and during Goodman's first trial; we also present absolute proof of John Goodman's innocence in this article.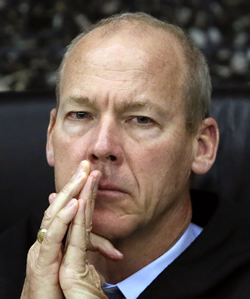 Judge Jeffrey Colbath


© The Palm Beach Post/ZUMA
As Goodman's second trial approaches more issues are appearing in the main stream media to prejudice Goodman and his due process rights, just as the state-fed-media did in his first trial.
Motions designed to save time and minimize the chance of more bad rulings during the upcoming trial have either been denied or pushed off until trial by 15th Circuit Court Judge Jeffrey Colbath. Of great interest is Colbath's decision to pick a jury of Goodman's peers from a different district and then bring them back for sequestration in West Palm Beach. The defense has argued vehemently for a change of venue given the negative press generated non-stop for the past four years since Goodman's alleged crime. Colbath has denied numerous change of venue motions and insists on trying the case for the second time in his home court, most likely for political reasons. A juror faced with three to four weeks of sequestration might just be resentful of the defendant. Colbath is quick to point out that it worked just fine in the Casey Anthony and George Zimmerman cases, which shows yet another nod at his self-importance to the media.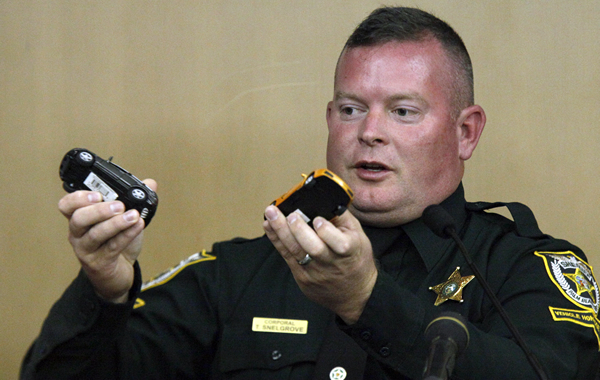 WPBSO – Deputy Troy Snelgrove


© The Palm Beach Post/ZUMA
More troubling about the press is that they are now gaining momentum in blaming Goodman for the cost to taxpayers. He is entitled to a fair trial. By no fault of his own he was granted a new trial due to jury misconduct. How is he to blame for the costs? Additionally, the court has imposed onerous costs on Goodman in the form of deputy escorts and a hearing in Tallahassee that was unnecessary, yet forced on him by the prosecutor's office. Goodman was willing to defend his blood Motion exposing that Officer Troy Snelgrove of the Palm Beach Sheriff's Office (PBSO) facilitated the use of the wrong needle size in front of Judge Colbath, without dragging the Florida Department of Law Enforcement (FDLE) into it.
The Clincher
Technically, there should be no second trial, and Judge Colbath knows it. The state prosecutor's office released both the Bentley and Hyundai after Goodman's initial conviction and before his sentencing. The defense has maintained since 2010 that Goodman's Bentley malfunctioned in the moments before the fatal car crash that killed Scott Wilson, thus making the cars key pieces of exculpatory evidence necessary to present a complete defense. The prosecutors knew the case would be appealed and unilaterally released these critical pieces of evidence without notice to the defense or the court. So, based on the fact the evidence was destroyed, Goodman can't have a fair and impartial trial. Both the prosecution and Judge Colbath know this fact quite well, yet pro-prosecution Colbath keeps on covering for and protecting these totally corrupted prosecutors.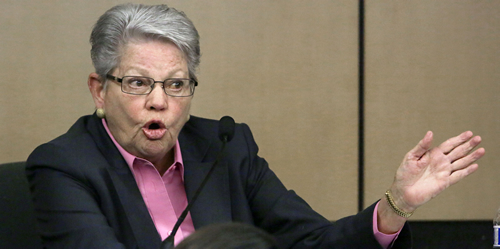 Former Prosecutor Ellen Roberts
© The Palm Beach Post/ZUMA
Listen very closely readership, the fact is, Goodman is entitled to a brand new trial, provided for by the US constitution, as if no trial had previously occurred, but because of Prosecutor Ellen Roberts' seemingly pre-meditated actions and Judge Colbath's collusion, Goodman factually can't receive a fair trial as federal law demands. Let's not forget that the sworn job of the state prosecutors is to seek truth and justice; a job that, at least in this case has gone unfulfilled.
The state prosecutors and, in particular, Judge Colbath are the ones costing the taxpayers multi-millions by pursuing this case. The judge had the duty to uphold the law but instead chose to ignore it when he summarily denied the motion to dismiss back in March, and again in September, when presented to him for reconsideration. Along with their wasted tax-dollars people should be worried that their constitutional rights may be denied in the future just like John Goodman's have now.
Again, I want to stress that an innocent John Goodman has been forced to spend many million dollars to defend himself against patently false and manufactured criminal charges in Florida's 15th Judicial District. We should all be asking ourselves why the media in West Palm Beach, Florida have all failed to demand an answer to the question; why would a legal system force a man, who is to be presumed innocent, to spend millions of dollars on his defense when justice should administered openly, freely and without cost.
That's the kind of information and awareness that should be coming from the local press on this trial. Instead, the fine people of Florida keep getting a mainstream that tows government line, and interjects its own commentary as if it were truth.
Editor's Note: We would like to thank all who have provided information on Judge Colbath and the prosecutors in this case – much of that valid information will be used at the appropriate time. We would also continue to urge anyone with information of any nature on Judge Jeffrey Colbath or any others involved in this case to contact the US~Observer at 541-474-7885 or by email to editor@usobserver.com.