By Joseph Snook
Investigative Reporter
Ask yourself this: What is worse; A guilty person being set free, or, an innocent being wrongfully convicted? If you said guilty person being set free, then ask yourself this: If we can't rely on the government to serve justice, then how can we trust our criminal justice system? Considering juries and the role they play in this process, what can jurors do to help alleviate mistakes made by the government? Today, we know that our imperfect criminal justice system accounts for an exoneration every three days, on average.
According to the National Registry of Exonerations at the University of Michigan, there were 151 exonerations in 2015, which was the highest rate of any previous year. According to Wikipedia, there is a combined 6,971,700 people incarcerated or on parole/probation in the U.S. The Innocence Project, a group that uses DNA evidence to exonerate the wrongfully convicted, maintains between 2.3 percent and 5 percent of all U.S. prisoners are in fact innocent – this can go to include those that are on parole/probation. With that in mind, there are potentially as many as 348,585 people currently in the system, deserving of exoneration. At a rate of 151 exonerations per year, it will take our current judicial system another 2,309 years to rightfully free those who are, "not guilty." These figures do not include the additional 54,148 juveniles currently in juvenile detention. 
Taking these (adult) figures into consideration, we can agree, our criminal justice system is imperfect; to what extent is where the conversation begins. For certain, jurors need to be more proactive in their role in order to help. Here are some questions jurors should seek answers to, which they may not ask often enough: 
What was excluded from us during trial? You may not get a direct answer from a judge, but you should be skeptical when this happens: A man recently told me, "I just attended a friends trial. It lasted 10 days. He was found guilty. I had no idea how our system actually worked at the time. Shockingly, the jury was removed from court proceedings, 5, out of the 10 days. The jury was not allowed to hear what was going on in court – half of the time! Is that fair?"
Can the jury question the law, as well as the facts presented? The short answer – no. Does it happen, yes. Today, saying you question the law, while deliberating, could cost you jail time. In almost any jurisdiction across the United States, a juror is ordered, by the judge, to only follow jury instructions – instructions that say something like, "you must not consider the law, only the facts presented during trial, with current law, as it reads." There are some jurisdictions that allow jury nullification, although by far, most jurisdictions do not. Therefore, questioning the law, at least out loud, is not permitted. To get a full understanding of what jurors were once allowed to do, let's look back in time, to our First Supreme Court Chief Justice John Jay, who stated, "It is presumed, that juries are the best judges of facts; it is, on the other hand, presumed that courts are the best judges of law. But still both objects are within your power of decision… you [juries] have a right to take it upon yourselves to judge both, and to determine the law as well as the fact in controversy". So yes, the role of a juror has changed.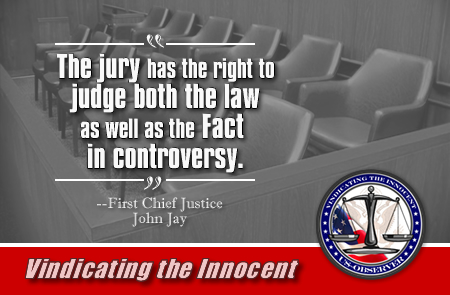 Does the Defense have expert witness testimony? While at trial, pay attention to the amount of "expert" government witnesses. They are usually people with special titles, and credentials – ready to say, "Guilty!" How many "experts" does the defense have, to counter? If you see none for the defense, then at least ask yourself, "why?" 
It is the burden of the government to prove guilt beyond a reasonable doubt. It is not the burden of the defense to prove innocence, although that is contrary to many court proceedings in this day and age. As a juror, you judge. Being in court doesn't necessarily mean someone is guilty – and the person with a badge, can, and sometimes does make mistakes. Remember, we are all human, and a badge doesn't make one person more honest than another. Blindly believing those who say "guilty" is not how our criminal justice system was intended. Question everything.
What other questions should jurors ask? Can you think of any? One day you could be in court – dependent upon your peers to do the same. Inform yourself, and start the conversation!
"Injustice anywhere is a threat to justice everywhere." –Martin Luther King, Jr.