By Joseph Snook
Investigative Reporter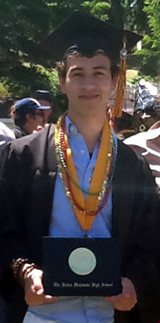 Armando Garcia
The Dalles, Oregon – Armando Garcia's senior year of high school was anything but normal. Instead of typical teenage worries like deciding what to wear or studying for a test, Armando had much more pressing concerns. Facing a myriad of stacked rape charges and disallowed from attending his school, Armando spent what should have been a fun-filled year desperately fighting for his freedom. Accused of rape by an ex-girlfriend after her parents found out details regarding their intimacy via Facebook, Armando was looking at serious prison time.
Even though insurmountable evidence attested to Armando's innocence, it didn't matter once he reached the courtroom. The prosecution, with Armando's ex-girlfriend and her father, a sheriff's deputy, at their side, aimed to inhibit Armando's freedom at all costs. All it took was an unfounded accusation from an ex. There was no innocent until proven guilty! Unfortunately, that's often the case today. Despite what the Constitution says, the burden of proof lies with the defendant. With police power behind them, all the courts need is an allegation.
Imagine for a moment you are a minority accused of raping a caucasian female 2 years your junior in a small, rural Oregon community. Oh, and her father happens to work in local law-enforcement. Based solely on the girl's word, you are charged with rape and forbidden from attending your senior year "until your case is resolved." In short, Armando was told to prove his innocence if he wanted to return to a normal life. Fortunately, Armando found a great support system.
The charges against Armando came about while he was still a junior, creating an ordeal that lasted for his entire senior year and the following summer. Armando, a one-in-a-million personality, "stayed positive," not succumbing to the pressure of being falsely accused and labeled a rapist. After the case was over, Armando stated, "Towards the end of it all, I was tempted to take the last plea deal (one of numerous deals offered) because I was so tired of everything. Knowing that I didn't do it, I fought it all the way to the end."
On August 27, 2013, Armando was found "not guilty." All the hard work by his attorney, honest information from witnesses, and a full investigative report by the US-Observer paid off, and Armando was free to move forward. Or was he?
The case was now closed. Armando was found not guilty. But was Armando really vindicated? Absolutely not! Even after being found innocent, people like Armando still have a record, and it was up to Armando to erase it. Despite being found "innocent," his arrest charges remained, making Armando a target for future abuse. Armando's attorney, James Leuenberger, filed documents to have Armando's record expunged. In October, 2013, it worked, and the arrest and rape charges were erased from his record.
Armando stated that he "really appreciates" what the US-Observer did for him, saying, "Not many people would've been on the side of someone who was being accused of such charges. People tend to think because someone is charged…that they did it, and sadly that's just humanity's view on things."
Armando finished his senior year of high school one year late, and on Saturday June 7, 2014 he participated in the graduation ceremony. Armando is finally moving on.
Holding no grudges against Kelsey (his accuser) and her family, Armando states, "She was scared about the whole situation. The information was found out by Kelsey's family, and she probably reacted out of fear. This was her first relationship with sexual intercourse." It likely didn't help that her father was a deputy sheriff. Considering what he endured, Armando is incredibly understanding and forgiving.
As advice to others in similar predicaments, Armando says, "Try not to worry. I had a 50/50 chance of going to jail. I stayed positive. Don't lose hope, and don't forget that you didn't do it."
Currently, Armando plans on "working for now and hopefully starting college in the fall with future plans of majoring in psychology."
Life after being found "not-guilty" is not something Armando carries proudly, but fortunately he has freedom on his side. His positive mentality will no doubt go a long way for him.
How many others have been falsely accused of sex crimes? How many of them were unable to find the same kind of support Armando did? Even though Armando wasn't facing a life sentence, he was facing a sentence that would last for a large portion of it. And even when released from prison, he would face the lifelong stigma of being a registered sex-offender.
If you or anyone you know have been falsely charged or convicted of a crime, please contact the US-Observer immediately. Act fast – time is not on your side. Armando Garcia knows this all too well.
Write: editor@usobserver.com or call (541)-474-7885.