By Ron Lee
Investigative Reporter
Editor's Note: It seems as though Oklahoma City District Attorney Wes Lane likes to pursue cases that are illegitimate, false and therefore severely damaging to the recipient. Luckily Wes Lane will no longer be in office as of January '07 and it is the US~Observer's expectation that new DA David Prater will look at the facts in this case, search all the evidence and then do what is right and file criminal charges against the police officers involved in this obvious attempt to railroad an innocent man, but until then, Tom Barton stands falsely accused of a serious crime.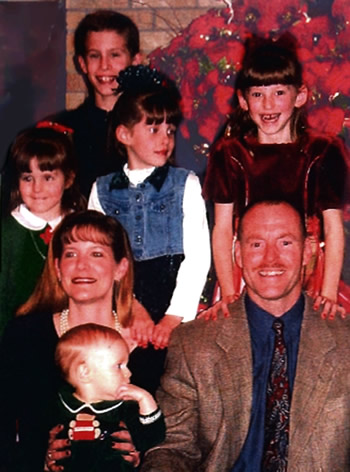 The Barton family
Bethany, OK – "I can't believe this. It makes me so mad that anyone can get away with this," Barton says about his current situation which is inconceivable, unless of course you were using his story as a screenplay for a movie. "I just want to see my children and they want to see me. They mean the world to me," he went on to say, disregarding the false charges he personally faces and more concerned for the welfare of his family, which has been torn apart by reportedly admitted false allegations against Barton of indecent and lewd behavior. These degrading and baseless charges were brought on by two girls who frequently played with Barton's children. Because they weren't acting appropriately Barton asked the girls to not come back and to not play with his children any longer. According to witnesses the girls wanted to get back at Barton so they created this story claiming that Barton exposed himself through the window of his house to them while they were in the yard playing with other children. In light of the reported threats the girls made against Barton for excommunicating them and in light of the fact that they were with 6-10 other children as well, any prudent person must conclude that the two are simply lying. Even the grandmother of one of the girls says to fellow community members that she doesn't believe the allegations against Barton. The girls are reportedly known in the community to be the troublemakers, stealing a car and store merchandise, lying, and acting absolutely inappropriately. Hence, the reason Barton wanted his children to remain free of their influence. Barton's anger, however, isn't exactly focused on the girls who have made the allegations but rather the Bethany police department who he says is seeking to destroy him and keep these false allegations alive for their own self-seeking end – regarding one officer in particular, Robert Lassiter.
According to PI – edited video originally showed cop with woman bent over hood
Robert Lassiter was the initial reporting officer in the Barton case and will be one of the state's primary witnesses but evidence gathered by our own investigation, an investigation by a private investigator hired by Barton and a report by Oklahoma City's own Fox 25, Robert Lassiter has a great deal to gain if Tom Barton were to go away … Barton's wife April. It has been noted by family friends and church goers that Lassiter and Mrs. Barton have been spending time with one another – even prior to these allegations having been filed against Barton. According to one investigator working on this case, at one point on August 3, 2006, at approximately 10:45 p.m. officer Lassiter had Mrs. Barton bent over the hood of her SUV as he approached down the secluded dirt road where the investigator had trailed her. With his video camera rolling the entire time the investigator captured her vehicle on film, the "situation" he had caught them in, and the ensuing confrontation with Lassiter who arrested the private investigator for "interfering with an officer." Lassiter then went on to confiscate the investigator's camera which was eventually returned to the investigator but with missing segments of footage as reported by Fox 25.
The private investigator's attorney Mike Gassaway who is representing the PI in a false arrest case against Bethany police department stated on Fox news, "The tape has been obviously altered while in the possession of the Bethany police department."
According to the Fox report, at one point the time on the tape jumped from 10:44:55 to 10:45:11 and then another segment seemingly taken out was where the tape jumped from 10:51:34 to 10:53:34. However, when asked by Fox 25, the police chief adamantly denied allegations that his officers or any officer in his department would have edited the tape. But with the Fox news investigation citing an officer Justice having accessed the evidence room a total of seven times in one hour and a reported recent admission by April Barton during a witnessed telephone conversation stating that they did in fact edit the tape, it seems as if the chief of police might not know all of the facts or is seriously covering for his officers.
Cops protecting cops
With the potential of a department wide cover-up, it is fast becoming transparent that Lassiter hasn't been the only one culpable in this situation. Along with the possible involvement of officer Justice mishandling evidence, Lassiter's old buddy J. R. Jencks took over the initial investigation of Barton and Jencks has reportedly been seen over at one of the accusing girl's home telling her not to back out of the charges and to, "stay the course." Jencks also went on to take a statement by the youngest Barton son. According to Jencks the boy said his father touched him. However, the 4 year old has not since said this to anyone else and even stated just the opposite leading the US~Observer to believe that this story was a fabrication created to further implicate Barton in wrong doing. Even Oklahoma City's DHS's report says that none of the Barton children have said that their father ever acted inappropriately, but for some reason DHS still has Jencks' statement listed as having been said, even though it is just one man's word against the entire family.
On the condition of anonymity one young man, who had been with the accusing girls and overheard them say that they wanted to get back at Barton and how they intended to do it, wrote an affidavit to what he had witnessed. However, when finding out about the affidavit officer Jencks went to the young man's place of employment and arrested him. Jencks took the young man in and suggested that if he were to change his story, the charges of tampering with a state's witness would disappear. Frightened by Jencks' threats, he decided to say exactly what Jencks told him and he filled out a provided affidavit form saying that his previous statements were false. But, when interviewed by the US~Observer he adamantly voiced that officer Jencks scared him into filling out the second affidavit and that he will testify to such when the time comes.
Overwhelming witnesses to the opposite
The Barton house has been the center for many children to come and play. With five of their own children and on any given day an additional 2-6 playing in their yard there has been an incredible outpouring of support for Barton. "If he were to have done what (they) say he did, we'd all have seen it," one of the Barton's children's friends stated. One witness for the state has even said she has told the investigating agencies time and again she had never seen anything, and personally doesn't believe the allegations against Barton. Yet, she is still being required to attend any possible hearings as a state's witness disrupting her and her family's life. With many others who have spent far more time with Barton and his family, than the two accusing girls, coming forward in his support, and more saying that the girls aren't trustworthy, or are flat-out liars it becomes increasingly difficult to find any just cause as to why the charges against Barton are being pursued other than the connection between officer Lassiter and Barton's wife and his involvement in the case.
False charges? Without any doubt
There have also been multiple witness statements made that one of the accusing girls was wanting to change her story but that her mother, who was on speaker phone on the girl's cell phone at the time, told her that if she changed her story now they'd all get into trouble. Not to mention this same girl sent one of the Barton daughters a letter asking for her forgiveness and that her mom had made her do it, saying in the letter, "I love you so much ok. I want you to know that because I know you hate me. It wasn't my fault my mom threatened me so … I had to. You know I love you … + your dad + mom … I love your whole family ok." The other accusing girl is the one witnessed in a conversation with officer Jencks who was telling her to continue with her story and there have been multiple witnesses to this accuser saying she would be dropping her charges against Barton.
State's witness previously denied allegations
In a surprising move away from the months of letter writing and statements made in regard to her husbands innocence, April Barton will now be a state witness. Okay, maybe it's not so surprising seeing as though she reportedly has stated that she wants to move in with officer Lassiter and be a family. Taken from an application gathered as part of the investigation April Barton has also taken money from Tom Barton, something she herself has described as "stealing" when she recently applied for a position at the Bethany Police Department. From apparent adultery to theft, evidence tampering to lying, evidently, April Barton doesn't see anything wrong with what she has done and is doing or has allegedly been involved with. It's amazing that all of this is occurring right in the middle of America's Bible Belt.
Family lost
Due to Barton's charges, his five children have been taken away and he is not allowed any kind of visitation. As a matter of fact he was recently arrested for giving gifts to his children through a third party, which according to Barton's attorney is just absurd. Even Tom Barton's parents are being kept from the children.
The children still remain outspoken in support of their father to their friends and at least want to be back with their Grandparents until this has all been cleared up. One thing they are clear on is their disdain and mistrust of officer Lassiter.
While April Barton might be finding whatever it is she needs (like being on the hood of a car late at night on a dead end road?) in officer Lassiter, it's unfortunate that she would put her children and their wishes behind her own selfish desires.
It is clear that Tom Barton wants the best for his children. He even wants the best for April. But right now he just wants to be vindicated of these baseless accusations so he can get back to being a good father.
Go with the evidence
With all of the evidence gathered in this case it is obvious there is at least a potential cover-up underway within the Bethany police department. At most, a full-blown conspiracy to imprison an innocent man for the sake of stealing his wife through whatever means they can muster. And let us not forget the vindictiveness of two adolescent females who were clearly going astray and then called on the carpet by Tom Barton. The young gals will soon find that lies can never cover a multitude of sins.
Bad cops and lying witnesses? You be the judge.