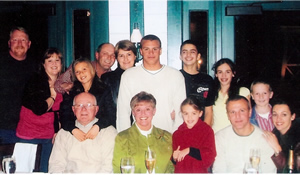 Manny Jones bottom left with family
By Leah Etling
Staff Writer –
Santa Ynez Valley Journal
Editor's Note: In our November edition we published an article by Investigative Journalist Joseph Snook titled, "Wrongful Death at the Chumash Casino?" Response from this hard-hitting expose has been phenomenal to say the least.
Leah Etling, a reporter with Santa Ynez Valley Journal newspaper read the article and responded by writing her own news piece, printed below, that was published on November 27, 2008.
As a direct result of both articles the US~Observer has been inundated with calls offering information over the past few weeks.

A Santa Maria family who lost a husband, father and grandfather in May is speaking out about their concerns over how Manny Jones died and why they haven't been able to receive more information about the circumstances from his employer, the Chumash Casino of Santa Ynez.
Jones, 66, hopped on the casino bus to work his usual night shift as a casino security guard on May 2 and was never heard from by his family again.
He never clocked in for his shift, according to a county sheriff-coroner's investigation of the incident, but images of him walking around the casino "in a confused state," were seen on security cameras, according to the coroner's report.
After his body was found near the intersection of Highway 246 and Edison Street in Santa Ynez, his family has spent months trying to get information about what happened to him, said his son Mark Jones and widow Kathleen Jones. They can't understand why he would have walked 13 minutes from the casino, or why his body was found with holes in his pants.
"I don't want anything out of this except for (the casino) to be held accountable," Kathleen said.
The casino has not been forthcoming regarding their requests, family members say. A call to casino and tribal spokeswoman Frances Snyder about the incident for this story was not returned.
A letter from Tribal First, a claims company that handled the incident on behalf of the Chumash Casino, said that it was denying a death benefit claim to the family.
"We are denying this claim because in order to be compensable, an injury must both arise out of and occur within the course and scope of your employment. There is no medical evidence to support that your husband's death was caused by anything industrially related. There is no evidence of any precipitating event attributable to his employment that caused his death," the letter from claims examiner Erica Brown states. "Please accept our sincere condolences; however, we cannot pay any benefits at this time."
Mark, a teacher, ultimately took the story of his dad's death to the US-Observer, an Oregon-based newspaper with the motto "demanding accountability" and also a professional investigation service.
After the Observer article, titled: "Wrongful Death at the Chumash Casino?" was published, Mark took the newspapers to the Chumash Casino, hotel and spa and distributed them. He was confronted by security guards and told never to come back on reservation land.
"We just felt robbed," Mark said of the family's reaction to Manny's death. "Something's not right." The family has not been offered any settlement or funeral cost funds by the casino, Mark said.
An autopsy performed on Manny's body concluded that he had died of natural causes. He had some history of atrial fibrillation and mitral valve disease and had smoked cigarettes. But the family says medical professionals told them the cause of Manny's death was inconclusive and wasn't related to a heart attack, aneurysm or stroke.
The family wants to know why, if Manny was disoriented or having trouble clocking in to work as shown on a casino security camera, no one attempted to help him or check his welfare.
After more than 30 years in farming in Santa Maria, Manny was working for the casino for the second time. He had retired from a four-year stint in 2004 and came back to work for the casino again in 2007.
"He had a great reputation," Mark said. The family has heard from many of his former coworkers from the casino expressing their sorrow and concern. However, those friends were not able to speak to the US-Observer or the Journal for fear of losing their jobs. Casino employees were required to sign a confidentiality agreement about his death.
The reporter who wrote the US-Observer story, Joe Snook, said that his newspaper plans to keep on pushing for information on behalf of the Jones family. "He was a good man, very well loved, a church-going guy," Snook said of Manny.
You can read the original US~Observer story here.
You can reach Leah Etling at letling@syvjournal.com.
Contribute to Manny Jones
Wrongful Death Investigation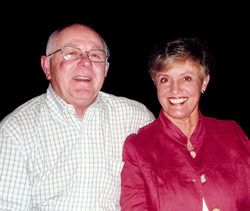 Manny and Kathy Jones
Since the US~Observer opened our investigation into the mysterious death of Manny Jones on October 1, 2008, we have been overwhelmed by the responses – not only regarding Manny Jones' case, but many other issues and claims of corruption pointed at the Chumash Casino located in Santa Barbara County, California.
The Jones family has tragically lost their "breadwinner" and the Chumash Casino is offering nothing more than a "deaf ear" to Manny's untimely death.
The US~Observer is willing and capable of completely exposing the facts associated with the Casino, but we need the assistance of our readership and those people who are aware of the severe problems and dangers associated with the Chumash Casino to join us financially.
The Jones family is struggling and the US~Observer is more than willing to donate time to this extremely noble cause, but we need serious help with the cost of publishing and disseminating the information we have obtained and that which has yet to be discovered.
With your help we will not only completely expose the truth about Manny's death; we will expose other serious allegations against the Casino.
Please contribute along with the US~Observer so that the Jones Family and many others will get the closure they need and to insure that the Chumash Casino receives the proper exposure that is so long overdue.
Contributions may be sent to:
The Manny Jones Fund
c/o US~Observer
233 Rogue River Hwy. PMB 387
Grants Pass, OR 97527