By Joseph Snook
Investigative Reporter

On the afternoon of May 2nd, 2008, Manuel (Manny) Jones, a security guard for the Chumash Indian Casino located in Santa Ynez, California reported to work for his swing-shift as usual. The events of this fateful shift remain largely unknown, however, the US~Observer's in-depth investigation is piecing together the evidence of what ultimately became the last moments of Manny's life. Manny died of what appears to be an unwarranted and wrongful death at his place of employment in the early morning hours near the end of his shift.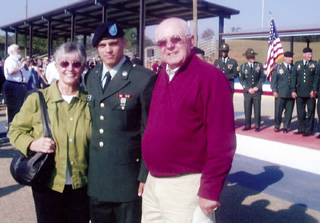 Kathy, PFC Joshua R. Jones (grandson) and Manuel "Manny" Jones
Manny arrived at the west wing of the casino and proceeded in punching the prescribed sequence of numbers authorizing him to receive his security jacket. He then attempted to enter another sequence of numbers followed by a scan print of his hand allowing him to clock in for his shift. According to security surveillance, Manny attempted to scan his hand numerous times. The first witness we talked to, whose identity is being protected, states that Manny was experiencing problems while checking in and rendered assistance but to no avail. According to witnesses, the security surveillance reveals Manny throwing his hands up, indicating his frustration as he walks away.
It is a Chumash Casino policy that all security personnel check in with the head of security via their Nextel every hour, on the hour, a standard operating procedure for large gambling casinos. However, Manny failed to check in at any time during his shift. What happened? A second witness states that Sgt. Steve Salazar, the head of security was informed not once, but twice that day as to the uncertainty of Manny's whereabouts. In addition, this witness reportedly told Sgt. Steve Salazar that Manny had never checked in. Something is amiss when the head of a Casino's security takes no action when one of their security guards is unaccounted for, but is known to have received his security jacket prior to his shift? Not so for the Chumash Casino and this behavior goes to the heart of defining "Wrongful Death,"
There are many unanswered and puzzling questions surrounding the death of Manny Jones. For instance, why was a third witness ordered by Sgt. Steve Salazar not to contact him anymore when checking in earlier that day? Why wasn't there a lieutenant or a corporal on duty along with the sergeant as stated in the Casino's security requirements? Is a clear pattern of negligence materializing that indicates serious problems with the Chumash Casino Security?
As time elapses to the end of Manny's shift there is no sign of him nor is anyone in security detachment concerned enough to mount a search for him. There are important lingering questions about the lack of parking security that was Manny's assignment for that day? Did anyone substitute for Manny to ensure security in the parking lot in his absence?
It was not until between 9:45 and 10:00 at night, almost 8 hours after Manny had arrived at the casino that Sgt. Steve Salazar contacts one of the witnesses to inquire as to the location of Security Officer Jones. The witness states that when he came to work Manny was present and the head of security Sgt Steve Salazar agrees, "Yes, I remember him this morning gathering his equipment for his shift." Following their deduction that Manny is indeed missing a search party is mounted to find him, albeit too little too late!
The events that take place hence indicate that there is much more than accountability problems at the Chumash Casino. To wit, at approximately 1:30 in the morning, Manny's body is found. According to the detectives there are no significant signs of foul play reported but scratches and bruising were detected. The family of the deceased was not notified of the death until after the body was sent to the morgue. Detectives are quick to rule it was a natural death and the body is embalmed in haste, before an autopsy is performed. Who did these detectives work for? Were they in-house detectives and did they have a conflict of interest in determining the cause of death? Could it be that Manny knew something that was compromising in nature and did not possess a need to know? Who had the authority to make the determination that the death was natural, especially, when the deceased had been mysteriously unaccounted for during his entire work shift and is found dead on his employer's property? This source of authority that allowed a mortician to embalm a body before a pathologist can officially determine the cause of death must be questioned. The haste in which Mr. Jones body was disposed of and the crime scene tampered with, leaves a lot of suspicion pointing directly at the Casino.
There will be much more information covered in future articles as this investigation unravels. Questions such as: Why was the fourth witness, the security guard who discovered the body, terminated by the casino? What prompted Manny's supervisor, Hardy Estes to call Manny's widow informing her that the Chumash Casino was re-vamping their security department following Manny's death? Why is Sgt. Steve Salazar, who was in charge the night of Manny's mysterious death not fully investigated and still employed by the casino? Why was a fifth witness demoted for voicing his disgust with the poor command procedures in place at the time of Manny's death?
Manny was a loved and honored man. He has left behind a widow, three children and many grandchildren who have suffered terribly and are haunted by the many unanswered questions lingering these many months later.
Rest in Peace Manny!
The US ~ Observer is on your side.
Editor's Note: If you have any information about past or present facts regarding the Chumash Casino, any of the people involved or Manuel Jones's tragic death, please call Joe Snook at 916-342-0132.