By Edward Snook
Investigative Reporter
Gold Hill, OR – Out of sheer frustration with Century 21 (Harris/Taylor Real Estate) not taking responsibility for damaging her, Linda Acosta recently placed the above pictured sign on her property off I-5 just south of Rogue River, Oregon. The sign was only up for a short time when calls came into the Observer office from passers-by informing us that someone had vandalized the sign. Someone obviously loyal to Century 21 Real Estate had cut the name "Century 21" completely out during the night. Irate over the vandalism, Linda went directly to her sign shop and had another sign made. This time she placed it on a trailer with lights to make it visible at night.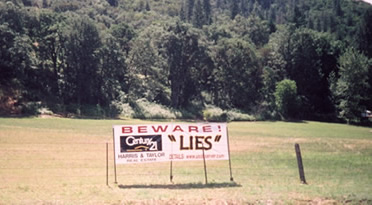 Observer sources have informed us that Century 21 intends to file a libel suit against Acosta for the sign which clearly states that they lie. It is the professional opinion of the US~Observer that the truth is an absolute defense against any libel suit, and it is clear that Acosta's allegations against Century 21 are well founded. Harris/Taylor attorneys should look up the word "Lie" in Webster's Dictionary before the filing of any suit. Two definitions of the word "Lie" are, "an untrue or inaccurate statement that may or may not be believed true by the speaker. Something that misleads or deceives." Without question, real estate agent Jeannie Moore's statements to the Acosta's are perfect examples of Webster's definitions of lying.
Instead of offering to settle the damage case Acosta filed suit against them, Harris/Taylor attorneys have scheduled to take depositions of Linda Acosta in this obviously open and shut case. Harris/Taylor surely knows that dragging Ms. Acosta through more litigation after all they have done to her will do nothing but damage Linda Acosta further.
Case Background
Bob and Linda Acosta purchased their final retirement property and home in Gold Hill, Oregon in January of 2002. Their agent who was also the seller's agent happened to be Jeanie Moore of Harris & Taylor Century 21 Real Estate. Moore assured the Acosta's their property backed up to BLM land which was a major consideration when the Acosta's decided to purchase. In August of 2002, Bob and Linda discovered that their land in fact didn't back up to BLM land. They contacted their real estate agent and her brokers, and the Acosta's were ignored repeatedly. Linda Acosta claims that she and her husband were talked to disrespectfully and in a vulgar manner on several occasions. They then filed a claim with the Oregon Real Estate Agency and in February of 2004, Jeanie Moore was found guilty of the Acosta's charges. Unfortunately, Bob Acosta who suffered from a severe illness passed away before seeing Moore held accountable. Witnesses, including this writer, attribute the stress created by Century 21 Harris/Taylor as a contributing factor to Bob Acosta's death.
Harris/Taylor continued to lend a deaf ear to this severe case of abuse, thinking they could run over the now widowed Acosta and in June of 2004, Linda Acosta was forced to file suit.
Instead of being responsible for their alleged "fraud," Century 21 then filed a motion to dismiss Acosta's complaint or in the alternative send it to arbitration. Following a January 31, 2005 hearing in Medford Circuit Court where oral argument took place between Acosta's attorney Foster Glass and Century 21's attorney Mark Clarke of the Frohnmayer/Deatherage law firm, Circuit Court Judge Mark Schiveley ruled against Century 21. Subsequently, Century 21 filed a "Motion to Reconsider" claiming they had discovered a "missing page six" which would strengthen their position. Upon review of the "all too convenient" missing page Linda Acosta knew that she had never seen the highly questionable, produced document, so she went to her escrow company which was First American Title in Rogue River, Oregon to look at the file in an attempt to prove that.
Had Century 21 provided the court with a fraudulent document? Mysteriously the escrow file had disappeared and even after supposed advanced searches, First American reported they couldn't find it and that they wouldn't be able to help Ms. Acosta further. First America Title Company's attitude in and of itself begs for an investigation into possible fraud and collusion. Attorney Foster Glass claimed in his response to the Motion for Reconsideration, "The evidence we have suggests these documents may have been fabricated and altered after the defendants received the Judge's opinion following the hearing on January 31, 2005. Judge Schiveley denied Century 21's "Motion for Reconsideration" on March 14, 2005 stating, "There do appear to be disturbing differences between the exhibits attached to the "Motion for Reconsideration." The court is not prepared to say that any documents have been altered or in some other way prepared for the Motion to Reconsider because the court does not have to." Amazing! Now Ms. Acosta can have her day in court where Century 21 will definitely leave with much egg on their face and a well deserved, large judgment against them. Corporations like Century 21 will soon learn that they can't simply take their clients money, cheat them and then basically tell them to go to hell…at least not when the US~Observer is involved.
Editors Note: If you have information on Century 21, this case, or on any relationship between Harris & Taylor Real Estate and First American Title Company, please contact Edward Snook at 541-474-7885. We sincerely thank those who have already contacted us regarding similar problems with Century 21 Harris/Taylor Real Estate.