By Edward Snook
Investigative Journalist
BLM Ranger William Finch
The US~Observer received allegations of sex abuse against Bureau of Land Management (BLM) Ranger William Finch on June 10, 2011. The accusations came from Finch's former girlfriend and her, now, 15-year-old daughter.

The allegations against Finch arose from a time when the young girl was in the 5th grade and living in Yuma, Arizona. She was reportedly 11-years-old at the time. The US~Observer is withholding the names of both the mother and her daughter at this time due to the severity of the allegations and the fears of Ranger William Finch that both mother and daughter have shared with this writer.

The girl claims that on the first occasion of alleged sex abuse that Finch touched her breast. According to the mother, there were two additional occasions of more intrusive abuse that she didn't discover for quite some time, as the girl only confided in her Aunt, and she was, "petrified of Finch because he was a law enforcement officer."
"He has sexual weird ideas in his head"
After the mother told this writer that Finch has, "sexual weird ideas in his head," she continued saying, "and he shouldn't be in law enforcement."

The US~Observer confirmed that a police report was filed with the Yuma, Arizona Police Department on11-6-06, regarding BLM Ranger William Finch's alleged abuse of the girl and we have obtained a copy of that report. While the Yuma Police Dept. report lists the offense as "Alleged Sexual Abuse," it isn't conclusive and no charges were filed. However, this incident was serious enough that the girl's school called the police, who went to the home where they questioned everyone involved. The mother stated in the police report, "she and Finch had an agreement that he would not be left alone with the girl, no more spending the night at the residence and that Finch would not come back to the house until the girl was comfortable enough to talk to him."

The girl did tell this reporter that there was another occasion where she woke up to find that Finch "had his hand down there and was doing stuff down there." We have also confirmed that the young and damaged girl has received counseling in an effort to deal with, "having nightmares."

At this juncture, the mother and daughter are attempting to deal with their fears and concerns about their identities and issues going public. We realize this must be traumatic for them; however, the alternative of keeping this problem concealed is a very dangerous recipe for disaster…
Ranger Finch's Alleged Abusive History
In April of this year the US~Observer published an article titled "BLM Ranger Uses Excessive Force."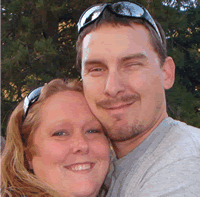 Dennis and Michelle Easley
The article stated, "being menaced, assaulted and jailed by an armed Bureau of Land Management (BLM) Park Ranger was the last thing that Dennis and Michelle Easley and their three children could have planned for when they left home on the morning of Feb. 20th 2010, for a day of play in the country with friends." (Read entire article at www.usobserver.com.)

The Easley's were both charged with misdemeanor crimes after their altercation with Ranger Finch and Jackson County, Oregon Deputy Sheriff Jimmie Gyllenskog.

At trial, the Easleys were both represented by Jackson County Public Defenders. Judge Lorenzo Mejia presided over the Star Chamber trial, wherein the outcome was a foregone conclusion.

Investigative journalist Curt Chancler sat for two days watching this "pathetic, corrupt dog and pony show of a court, acting out their little parts in a lame attempt to inflict injury on this young family and at the same time attempting to create the impression that justice was being served by their vile actions."

According to Chancler, "the Easily's only chance for justice was in the hands of six brain washed, constitutionally challenged twits, who had little or no knowledge of their rights and duties as jurors. Even worse was the probability that these six minds of mush were going to follow Judge Mejia's tainted jury instructions."

Chancler continued, "As someone that has hundreds of hours in the court rooms of America, I can tell you that everything a judge does from the rolling of his eyes, to body language and attitude, influences jurors.

"I watched in disbelief as Judge Mejia displayed an obvious contempt for both the Easley's and the Easley's attorneys. Repeatedly Judge Mejia was abrupt and curt with both defense attorneys.

Judge Lorenzo Mejia
"It was more than clear that Judge Mejia was working to prejudice the jury. At the same time Ruby Herriott, the prosecutor for the state, was questioning the state's witness Terri Lee Drew; she was also attempting to admit pictures into evidence that
had not been authenticated.
"Judge Mejia knew the admission of the unauthenticated pictures into evidence could only enhance the predatory interest of the prosecutor. He had to know that without a time-line being established to when they were taken, they would create the misguided illusion to the jury that Easley's defense witnesses were lying about crucial facts of the case.

"Defense attorney Herbert knew this and objected. Judge Mejia told Ms. Herbert 'it is not required and as to your objections, over ruled.' Ms. Hubert told Judge Mejia that the pictures were taken by the state's witness Terri Lee Drew's girlfriend and the pictures had not been authenticated and Mr. Drew's girlfriend was not in court for defense to have the ability to cross examine her about the pictures.

"Then, over Ms. Herbert's objection's, Judge Mejia admitted the unauthenticated and prejudicial pictures into evidence for the jury to see. Even worse, he allowed the prosecution's witness Terri Lee Drew to testify at what point of the altercation the pictures were taken, leaving the jury with the impression that defense witnesses were indeed lying.

"Dave, one of my fellow court watchers looked over at me and stated, 'that corrupt bastard of a judge just killed any chance of these kids ever having a fair trial.'

"What happened to this young family is nothing new. It happens a thousand times a day all over this country. It happens because there is no accountability in the courts of America."

Curt Chancler concluded – "You cannot have accountability when the courts consider the Constitution an abstract concept. Example: Law enforcement has immunity; prosecutors have immunity; the judge has immunity and without accountability there can be no justice, only the Illusion of justice.

"Our government and our courts were created from a recipe for prosperity and strength through freedom. That recipe is called the Constitution and all of the tools needed to take our country and our courts back and hold them accountable are contained in that Constitution. Read it, learn it, quote it, debate it, teach it and if need be fight for it. Then and only then will justice in America, no longer be just an illusion."

I should note that the Easley case was not a US~Observer case, but one that Chancler decided to cover. The accusations against abusive Ranger William Finch are a different matter – one the US~Observer fully intends to resolve.
More of Ranger Finch's Alleged
Abusive History
The following are just a few excerpts from the complaints Curt Chancler received during the course of his investigation of Ranger William Finch:

"The next time I saw Ranger Finch, was the same day he was going back and forth on a trail sneaking around looking through his binoculars at the people on and around the trail. I found his behavior very upsetting because that trail and just off the trail is used by the women, children and fisherman to go pee; in fact we call it the pee trail.

"Later that day I was standing just off the pee trail relieving myself when Ranger Finch and his binoculars walked right up on me, Finch spun around and went the other way. I followed Finch and told him I did not think what he was doing was his job and I resented it."

Another witness states, "Another thing that bothers me is Finch likes to get right in your face and twice I know I have smelled alcohol on his breath."
"we caught him lying on the ground looking through his
binoculars in the area where everybody goes to pee."

Yet another witness named Rob states, "my first encounter with Ranger Finch was Fathers Day 2009, at Hays Falls and it was not a good meeting." Rob said he had fished that area for many years and he and several other fishermen and their wives and children were there. Rob said Ranger Finch did not come down by the river and check the men but instead he hung around the trail where the women and kids go to the bath room, asking women and Kids for their IDs and fishing licenses. Rob said he and some of the men did not like Ranger Finch sneaking around with binoculars in an area where women and kids were going to the bathroom and "we caught him lying on the ground looking through his binoculars in the area where everybody goes to pee." Rob stated, "we asked Finch, what the hell is wrong with you, man? I believe when Ranger Finch is alone he won't confront a man but he will confront women and kids." Rob said he believes Finch is just not right.

All of this information and much, much more was published and it was given to Jackson County Sheriff Mike Winters, yet Finch is still, to this very day acting as a law enforcement officer for the BLM and he still has his police powers as a deputy sheriff for Jackson County, Oregon. The information was also given to Ranger William Finch's superiors at the BLM. What was done? Absolutely Nothing. Now we have discovered that a young girl is claiming Finch sexually molested her, and the facts back up her story.

The US~Observer usually deals with cases where there are false allegations of a crime, however, due to the large number of people who have given statements regarding Ranger William Finch and his varied abuses, we are compelled to both believe and make public the "Sexual Abuse Allegations."

I am extremely concerned that there are many more victims of Finch who are afraid to come forward because he wears a badge, and I am even more concerned about the fact that Sheriff Mike Winters and BLM officials have done nothing to stop this allegedly dangerous individual. What a disgrace…