Lawyer Michael Minns
(US~Observer) – The "Lamestream" media published the indictment of Stephen Squires, inventor/genius CEO of Quantum Materials Corp. (QTMM) and its subsidiary, Solterra Renewable Technologies, Inc. – now one of America's great hopes in the Solar Power Race (that we are currently losing). They reported that Squires had a duty to pay taxes on stock he didn't fully control and didn't sell and couldn't borrow against. In essence, they regurgitated what the government told them to run.
The IRS did in fact indict Squires for not paying taxes on stocks in 2003 (even though he didn't get any money that year for the stock in question) and for not filing in 2004.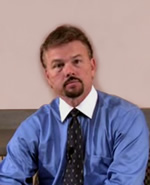 Stephen Squires
Over several years, and a few big law firms later – who all charged him hefty fees – everyone told Squires to bend over and take a deal. That is until he hired the most winning IRS lawyer in the country and US~Observer contributor, Michael Minns, who took Squires' case in front of a jury and won.
American Small Cap Stock companies could compete with Europe, China and the Mideast if the IRS didn't seek to punish them at will. What effect would it have on the shareholders of start-ups in this country, and the economy as a whole, if stock owners weren't subjected to these radical attacks by the IRS?
Fortunately, for Stephen Squires, the IRS has been put in its place and he and his companies can get to work helping grow our ailing economy with new technologies.
And the Press, the so called mainstream media, who were quick to report the indictment; they have ignored the details and the victory… but this paper won't.
Next Month: Read about this amazing and critically important victory which protects our rights to get involved with the small business opportunities that grow America; that our politicians seemingly ignore.
Many of the exclusive details will be revealed publicly for the first time… Stay tuned.
A LITTLE ABOUT SQUIRES' COMPANIES:
Quantum Materials Corporation (OTC Bulletin Board: QTMM – News) and the Access2Flow Consortium of the Netherlands today announce that continuous production of Tetrapod Quantum Dots has been achieved using its proprietary micro reactor technology. Processes for producing quantum dots and tetrapod-shaped quantum dots of various sizes delivers on the promise of this technology to tailor-make material at commercial quantities for a variety of emerging applications such as Solterra Renewable Technologies' solar panels, displays, lighting, and medical diagnostics.
Quantum dots have been widely recognized for their potential in next generation display technologies, solar cells, LED's, OLED's, computer memory, printed electronics and a vast array of security, medical and energy storage applications. According to research group BCC Research, the 2010 global market for quantum dots was estimated $67 million in revenues, and is projected to grow quickly over the next 5 years at greater than 50% per year reaching almost $670 million by 2015.
Solterra Renewable Technologies, Inc. will produce high volume hybrid solar cells using revolutionary low cost Quantum Dot synthesis technology and a proprietary conjugated polymer technology that delivers unmatched efficiency and production economy.
Solterra's process does NOT require costly silicon or slow, cumbersome vacuum processing or sputtering methods, thereby creating a new paradigm in the industry.