Sunny Valley, OR – Club 71, the controversial strip club owned, and now possibly operated, by Richard Larry Lacey, was the scene of a 6 employee walk-out Thursday (April 7th) afternoon. Citing differences with the owner, the establishment lost its manager, assistant manager, 2 bartenders, a door staff member, and a DJ.
According to several of those who left the employment of the erotic dance facility, the scene became rather explosive as Lacey aggressively accused a previous employee of stealing. Such tactics have been used by Lacey before when dealing with individuals who stand up to him. As such, the employees made sure to be in a group when removing their personal belongings from club property. On the condition of anonymity an ex-employee said, "Larry has a very physical way of communication. He tries to impose his will by being forceful and if you don't agree, or have a response, he explodes and it can get dangerous."
Lacey also lost an entertainer two days prior who cited in a television interview outside the Josephine County Court House on Wednesday that Lacey had "grabbed her" and treated her like she was "stupid."
Several of those that left felt Lacey had forced them into leaving, another tactic he has used in the past. In previous businesses, he would hire someone with the knowledge to build his business and within several months learn what was needed and let the employee(s) go.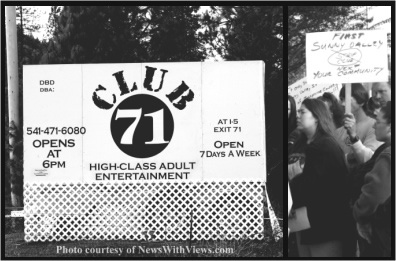 Evidently, Lacey had replacements ready to go and he brought on a new manager. He happens to be the husband of one of the underage showcase dancers that would, according to those previously at the club, sit in the club, watch his wife all night, call her after she got off the stage every time to see how much money she made, and generally controlled every aspect of her performance. He also had a new door staff (bouncer) member ready to work as well as a new bartender.
According to one of the entertainers, all of the underage dancers were standing out near the Club 71 bar area all Thursday night, a violation of OLCC regulations.
One thing is for sure, with Larry Lacey's previous explosive behavior toward the Sunny Valley group that is protesting Club 71, the new manager has his job cut-out when protesting begins again this weekend.