By Edward Snook
Investigative Reporter
Wallowa County, OR – In a perfect world Wallowa County Attorney Rahn Hostetter and others should be facing criminal charges for their actions, according to numerous witnesses and in this writer's opinion, the criminal charges would be Racketeering.
The US~Observer began its investigation approximately 6 months ago and the information regarding corruption, back-room-deals, fraud, illegal banking activities, severe conflicts of interest, etc. are honestly overwhelming and most of the corrupt actions have involved Attorney Rahn Hostetter.
Sheriff Fred Steen
On a recent trip to Wallowa County, I confronted Sheriff Fred Steen about whether or not he planned to arrest Hostetter and others as I have been acutely aware that he has made what I consider to be very valid claims of criminal activities to prosecutors and other law enforcement agencies, including local prosecutors, the FBI, IRS, Oregon State Attorney General's Office and the US Attorney's Office in Portland, Oregon. Sheriff Steen informed me on August 22, 2012 that he was going to be making arrests soon.
---
"I blame Rahn Hostetter, in part, for my husband's death." – D'Anne Rehder
---
On September 20, 2012 Sheriff Steen informed me that he was preparing paperwork and needing to speak with a couple witnesses before presenting his case to Wallowa County District Attorney Mona Williams. I told Steen that he had already been to Williams and other prosecutors and he stated, "I'm just trying to cover all of my basis." Sheriff Steen has factually stated to this reporter that he has evidence of the crime of Racketeering and in my opinion numerous people in Wallowa County have clearly been involved in this serious crime. Let's get to some additional evidence that wasn't contained in the last edition of the US~Observer and then we'll get back to Sheriff Steen and his responsibilities.
Bill & D'Anne Rehder, Rahn & Becky Hostetter and Community Bank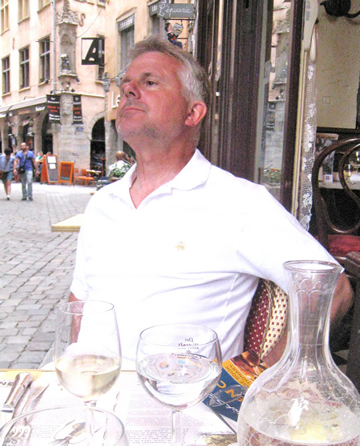 Rahn Hostetter
Before reading the following "Findings of Fact" by the Oregon State Director of the Department of Consumer and Business Services, our readership should be aware that some of the facts really aren't facts. Some of the "facts" are actually falsehoods that Community Bank and/or Hostetter got the Director to swallow. D'Anne and Bill Rehder did not first meet the Hostetters at Hostetter's office in Enterprise, Oregon; they met at Denny's Restaurant in La Grande, Oregon. The Rehder's had no idea that Hostetter was Community Bank's "outside general counsel"; they were told that he was just another bank customer. This truth makes the conspiracy between Bruce Penoske (Community Bank CEO) and Rahn Hostetter much worse and it also shows how the Oregon State Department of Consumer and Business Services really didn't punish Community Bank at all – they helped them attempt to cover corruption up and sweep that corruption under the rug.
Since the Rehder family and other customers were devastated by the bank and the bank's outside general counsel Rahn Hostetter, we have been informed that corruption or business as usual continues at Community Bank. We have also been informed by a credible source that the main reason that Community Bank settled with the Department of Consumer and Business Services was to keep them from obtaining damning emails between bank employees, Hostetter and others. On a more positive note – Penoske is no longer at the Joseph, Oregon branch of Community Bank and Hostetter no longer represents the bank.
On April 29, 2008 then Chairman of Community Bank Bruce Penoske, consented to entry of a "Order to Cease and Desist" from the Director of the Department of Consumer and Business Services for the State of Oregon, after the agency had "conducted an investigation into the activities of Community Bank" pursuant to the authority of the Oregon Bank Act (ORS 706.005).
Findings of Fact – By the State Director: "Bruce Penoske (hereinafter "Penoske") was, during all times material herein, the President and Chief Executive Officer (CEO) of Community Bank… D. Rahn Hostetter (hereinafter "Hostetter") was, during all times material herein, outside general counsel to Community Bank. Community Bank had a customer (hereinafter "Community Bank Customer" or "customer") who conducted, among other business ventures, logging activities in eastern Oregon." The Director was referring to Bill and D'Anne Rehder as the customer, who held loans with Community Bank and who applied for a large loan in 2003, which is the subject of much of this article.
---
"Don't you people in Wallowa County
realize that your county is currently facing a
$12 million dollar lawsuit, with more on the way?"
---
Findings of Fact continue: "In January 2003 the bank's CEO, determined that granting the large loan they had applied for would, in combination with sums already lent to these borrowers, place Community Bank in violation of its aggregate lending limit. However, the CEO told the customer that Community Bank would attempt to use alternate approaches in an attempt to fund the loan – the CEO suggested to the customer that Hostetter – the bank's outside general counsel – apply for the loan, for the customer's benefit. During the conversation the CEO strongly inferred that Community Bank would approve such an arrangement. With the customer's consent, the CEO introduced Hostetter to the customer by telephone.
On or about March 14, 2003, the customer met with Hostetter at Hostetter's law office to discuss Hostetter's prospective role in a Community Bank funded loan… Although the parties initially discussed the payment of a substantial "flat fee" by the customer to Hostetter for the use of the latter's name on loan documents, their talks soon expanded to encompass a more involved role by Hostetter…
Furthermore, the customer and his wife agreed to pay the Hostetters an additional $200,000 in compensation for involvement in the transaction. The Hostetters agreed to re-convey a portion of the property to the customer and his wife once the Community Bank loan was paid off, with the remainder of the acreage being divided equally by the customer and his wife and the Hostetters. On March 19, 2003 the customer and his wife and the Hostetters (Becky Hostetter was a party to this transaction) entered into a signed contract with respect to the property, which Hostetter drafted…
On March 19, 2003 Penoske, without obtaining a copy of the agreement between the customer and his wife and the Hostetters, formally approved a loan in the amount of $3,725,227 to the Hostetters from Community Bank. The bank assessed a loan fee in the amount of $100,000, a sum paid to it by the customer… The March 19, 2003 loan caused Community Bank to exceed the Oregon Bank Act's aggregate lending limit to, or for the benefit of, a single borrower."
Even though several Community Bank officers voiced their "serious concerns" about the bank's loan, it went through as planned by Penoske and Hostetter. "On July 23, 2003 the CFO (Chief Financial Officer) responded to the AVP (Assistant Vice President) via email, observing that a meeting of senior bank officers should be called to discuss the March 19, 2003 loan to Hostetter, expressing concerns that the FDIC would be highly critical of Community Bank concerning the subject loan, and that the professional consequences to the CEO on account of the March 19, 2003 loan to Hostetter could be dire."
The State of Oregon Director subsequently found that Community Bank had at least one officer or director knowingly make a false statement or report to the Director, in violation of ORS 706.725 and that Community Bank had at least one officer or director willfully do an act which is expressly forbidden by the Bank Act, in violation of ORS 707.720. The State Director leveled a $6,000 civil penalty, a $5,000 penalty against Community Bank and then he ordered them to pay $10,000 as reimbursement for the costs of the Division's investigation into its "unlawful activity."
Outcome of Rehders Doing Business with Hostetters and Community Bank
Without getting into the exhaustive details of the Rehder/Hostetter business dealing, let me address the outcome of it. On November 12, 2004 Attorney Rebecca Knapp filed suit against the Rehders on behalf of Rahn and Becky Hostetter.
Rehders hired Pendleton, Oregon Attorney David Gallaher and he filed a complaint against Hostetter with the Oregon State Bar (OSB) on November 19, 2004. According to witnesses and documents we have obtained, Bruce Penoske lied to the Oregon State Bar (OSB) for Hostetter in that he told them that the bank didn't rely on Hostetter's counsel regarding the Rehder loan. The OSB dismissed the complaint. Once the OSB complaint was dismissed, Community Bank would later argue in the countersuit filed by the Rehders that they did rely on Hostetter 's counsel. Click here to view the Rehders FULL COUNTERSUIT.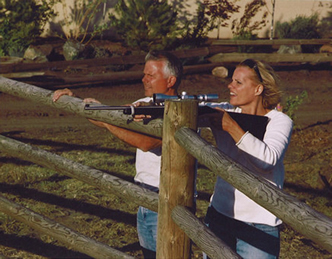 Rahn and Rebecca Hostetter
Next, on January 28, 2005, Gallaher filed a countersuit against Hostetters and Community Bank under the tort claim of "Unconscionability." Later, the Rehders hired Portland, Oregon attorney Steven Marks to file an Amended Complaint against Hostetters and Community Bank. Gallaher and Marks claimed among other things, "Plaintiffs Hostetter, acting in concert with counterclaim Defendant Community Bank ("CEO Bruce Penoske") created an artificial loan transaction, whereby Defendants Rehder were forced, by compulsion, to either sign the March 19, 2003 contract presented by Plaintiffs Hostetter or lose five hundred thousand dollars ($500,000) in earnest money… the contract entered into by Defendants Rehder and Plaintiffs Hostetter dated March 19, 2203 was procured through fraud" (read the shocking counterclaim in its entirety in the on-line version of this article at www.usobserver.com).
According to witnesses, the banks insurance company settled the counterclaim with the Rehders and Rahn and Becky Hostetter received nothing for the original claim of $200,000.
Devastating Results
Now in her 60's, D'Anne Rehder is currently working to support herself and her daughter – Her husband William "Bill" Rehder passed away on January 20, 2008. Mrs. Rehder currently needs to take medication in order to cope with the unbelievable trauma she has been forced to endure. According to Mrs. Rehder, "I blame Rahn Hostetter (in part) for my husband's death." I could print much more on the devastation that D'Anne Rehder has endured, however out of respect for her and her daughters, I chose to not publish certain facts…
For the worthless human beings who are running around Wallowa County saying that these are old issues, I would respond, "Get a hold of D'Anne Rehder and ask her just how old these issues really are!" And for the other worthless human beings who are running around Wallowa County talking about how bad Lloyd Trackwell is, I feel so sorry for you. Trackwell had nothing to do with creating the ridiculously long record of sophisticated corruption that Hostetter and others have compiled – he simply exposed much of it.
Further Basis for Racketeering Charges?
Remember the Wiecks and the Olson's severe problems with Rahn Hostetter and Community Bank, written about in our last edition? They appear to have had very similar results as the Rehders, from doing business with Attorney Rahn Hostetter and Community Bank. Greg and Claudette Wieck have been devastated financially – Charles and Lucinda Olson have been devastated financially. The OSB is currently dealing with complaints filed by both the Wiecks and the Olsons – The Wiecks have filed a lawsuit against Hostetter.
Rahn Hostetter is without question one of the most dangerous and corrupt individuals this writer has ever encountered and I wonder myself why the Oregon State Bar continues to allow Hostetter to accumulate victims, especially in light of their own findings contained in previous disciplinary actions against him.
"Good People" and a Sheriff Do Nothing!
In fact, I really wonder why the "good people" of Wallowa County and especially Sheriff Fred Steen allow Hostetter and others to continue what Steen has claimed is a "Racketeering" scheme. I am well aware of the various conflicts of interest that exist with District Attorney Mona Williams when it comes down to Hostetter and others involved with him, however, Sheriff Steen is not required to prosecute anything. Steen can certainly claim that state and federal prosecutors and other law enforcement have failed to do their job – even that they are corrupted, incompetent, compromised and negligent, but I clearly realize that he only has to answer for himself and what he does and doesn't do. Sheriff Fred Steen took an oath to uphold our constitutions and the laws of the State of Oregon. If he has evidence of crimes committed and he fails to arrest, he is the only one responsible for not doing his job…period!
Rahn Hostetter
Don't you people in Wallowa County realize that your county is currently facing a $12 million dollar lawsuit, with more on the way? Do you realize that Marilyn Suarez of Wallowa Title has reportedly sent the Sheriff and Wallowa County a Tort Claim Notice of intent to file suit? Can you comprehend that other associates of Hostetter and Hampton will probably be suing as well? Do you understand that in the end you citizens are the ones who will pay the judgments if they occur? Are you concerned about whether the lawsuit and potential lawsuits are frivolous or not?
I am acutely aware that only a handful of people in Wallowa County, Oregon have attempted to do anything about the corruption that has gone on there for so long. In light of my damning article contained in our last edition (read article at www.usobserver.com in the archive under edition 17) I find this inaction not only negligent, but deplorable. It exposes a spineless community – one that is either unconcerned, afraid, greedy or a combination of all three. For the record, I am not referring to Gregory and Claudette Wiecks nor am I referring to Charles and Lucinda Olson or the other few people who have shown enough concern to get involved. As for the rest of the Wallowa County "good people," if the shoe fits, wear it.
Editor's Note: On September 20, 2012 Rahn Hostetter's Attorney Thomas C. Peachey from The Dalles, Oregon filed an "Affidavit of D. Rahn Hostetter in support of Defendants Motion for Change of Venue" with the Wallowa County Circuit Court, regarding the lawsuit brought by Greg and Claudette Wieck against D. Rahn Hostetter and Hostetter Knapp, LLP.
In the affidavit Rahn Hostetter claims, "This is an action by the plaintiffs alleging the negligence of the defendants in the legal representation of the plaintiffs and the loss of value to plaintiffs of a rock quarry which was sold to me and my wife, Rebecca Hostetter, under the terms of a sales agreement.
I have reason to believe that I cannot obtain a fair and impartial trial in this action in Wallowa County, because plaintiff has exercised undue influence over the citizens of that county. On August 12, 2012, plaintiffs caused to be published an article in the US~Observer regarding my alleged improper conduct with regards to the plaintiffs and their associates Lloyd Trackwell and Mary Wickenkamp."
This is but one more lie from Rahn Hostetter. The Wiecks never caused the US~Observer to publish any article, we published because Hostetter is a very dangerous crook and it is our opinion that he is a danger to anyone who does business with him. The published article doesn't even mention Mary Wickenkamp, yet Hostetter, after "being duly sworn," lies and states that it does. In a perfect world, I believe they would call this perjury; of course Hostetter has a long, long track-record, which proves he has no problem involving himself with lies and deceit. And, just for the record, it sounds to me like the Wieck case greatly resembles the Rehder case and others – Rahn and Rebecca buying and selling and on and on and on…
We need pictures – pictures of Bruce Penoske, Bruce and Venese Hampton, Rebecca Hostetter, Marilyn Preston/Suarez, and all other public officials in Wallowa, Union, Baker and Umatilla Counties. We need photos of all Fish and Wildlife employees, all United States Forest Service and Bureau of Land Management employees. All Oregon State Police Officers stationed in Union and Wallowa County. We need pictures of King Williams, and anyone associated with the Nature Conservancy.
Don't miss our next edition where we plan to start publishing on the Nature Conservancy, King Williams and the various ties both have with what some describe as "corrupted land deals" and "fraudulent land appraisals."
BREAKING: As we go to press, we have been informed that the Oregon State Bar has decided to bring formal charges against Rahn Hostetter in the Olsen case.
I have two questions left; when will the public realize that Rahn Hostetter is a very corrupted individual, and will Rahn ever realize who is really "the fool"?