By Edward Snook
Investigative Reporter
Editor's note: This is the first in a series of articles involving multi million dollar scams perpetrated by numerous individuals. This is the story of just two of hundreds of victims.
This article pertains to allegations of conspiracy to commit fraud under the Rico statutes; fraud on or by the courts or by court officials, lawyers, trustees, etc.
Selma, OR – Back in 1998, a group of several conspiring individuals moved to Selma, Cave Junction, Merlin and Grants Pass, Oregon. They had purchased the Deer Creek Ranch, a 1003 acre ranch associated by most Josephine County residents with actor John Wayne who often visited there.
Most of these co-conspirators came from either Utah or California. Besides robbing people of their life savings the other common thread between the conspirators was almost all of them belonged to the same religious organization. They bought the Deer Creek Ranch as a high class venue (front) for basing their crooked operations which mainly consisted of selling complex Trusts followed by offers of offshore investments with an annual return rate of 48%. Sound too good to be true? It was.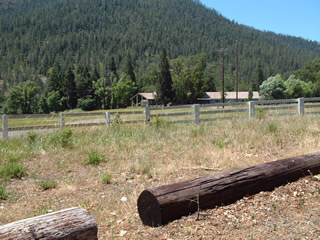 Deer Creek Ranch – home to million dollar scams.
These fraudulent individuals had developed a Ponzi (bait and switch and money laundering) scheme, second to none. They left close to 300 victims behind, one of which was prominent commercial real estate broker Sam Fung. Many of the con-artists have been indicted and rightfully so, however the government also indicted Fung, a proven victim of the scheme (don't miss our next edition wherein we will feature Sam's case, along with all the names of the conspirators, including those within the legal system). In any criminal case an accused can't be both a victim and a perpetrator. Fung was not only fleeced out of thousands of dollars by polished con-artists Leroy Fritz and Rick Prescott, they also stole many hours of valuable time from this duped individual. Duped? Absolutely, just as hundreds of others were duped. The US Attorney's Office will be provided the proof regarding Mr. Fung's innocence and we expect them to do the right thing in dropping the false charges leveled against this successful businessman, husband and father of three young, beautiful triplets.
The main, but not only fraudulent investment vehicles were four Trusts called Fountainhead Global Trust (FGT), National Trust Services (NTS), Fiduciary Educational Society (FES) and Trust Educational Services (TES). FGT was the main, but not only funding arm of this entire scam created by Leroy Fritts and Rick Prescott.
In July 1999, the three Trustees of the bogus Trusts began infighting because two of the Trustees, Ivan Cermak and Rick Prescott, correctly perceived that the third Trustee, Leroy Erwin Fritts, was ripping them off. They fired Fritts and Fritts sued them along with many others in Josephine County Circuit Court Case No. 99-CV-0422. That case grew into a nightmare and was not resolved until June 17, 2002. The only reason that case was resolved then was because Fritts had disappeared from the scene in June, 2001. In other words he defaulted and eventually his lawyers withdrew from the case because of lack of contact with their client.
During the course of that case the Defendants incurred certain legal bills in the form of five large trade creditor liens and Referee and Receiver fees. These costs totaled approximately $240,000.00. While the court was prepared to give judgment in favor of Defendants, it would not do so until those fees were paid.
Enter victim Ron Gibson. Gibson was in the market for some property in or near Selma and as luck would have it, the ranch, which was comprised of nine separate parcels, owned two parcels located at 195 and 199 Norman Road in Selma. Gibson examined those two properties and decided in January, 2002, he would make an offer to purchase them for the sum of $225,000.00. Also in January Gibson made that offer in writing and subsequently received a written acceptance from the Trustees of FES. That same month FES could not come close to affording to pay its legal fees unless the sale of the Norman Road properties was consummated. However, when Gibson had the title company research the county records, it was discovered that there were over six million dollars in liens on the ranch. Most of them were bogus, but about a quarter of a million dollars worth were valid. These liens applied to the entire ranch including the two Norman Road properties. Because of this Gibson's agreement was frustrated and could not be completed.
Now FES Trustees panicked. Prescott sent his father in law, Gary Brummett, perhaps the worst of the incorrigibles, to meet with Glenn Kierstead in Vacaville, California. There is a 75 page FBI report on Brummett detailing two scams he ran, one dealing with a sunken ship off the Philippines coast supposedly containing a treasure of gold. If one invested at least $100,000 you were promised a 100% return in 30 days! In that case Brummett's partner in crime was sent to prison but Brummett was not, probably because he ratted on his partner in exchange for his freedom. The second scam involved what was supposedly an ancient Aztec statue that was for sale. At any rate Brummett was eventually allowed back into the Church and he worked for the Bishop in Cave Junction, Oregon. Brummett was soon fired from that position for allegedly stealing Church funds.
Although Kierstead was a member of the "religious organization," he had invested approximately $250,000.00 in one of the investment scams and had lost his investment like 280 others, one of which was Whataburger, a Texas based restaurant chain that alone invested 5.4 million dollars. Nevertheless, when Brummett asked him for a loan on behalf of FES, Kierstead eventually agreed, if and only if FES would promise to give his $250,000 back as part of the promissory note discussed below. The question is, why should he be the only investor to get his money back when the rest of the victims recovered nothing? The board of Trustees, especially Cermak (not a Mormon), was reluctant to do this, but eventually agreed to meet Kierstead's terms with two important conditions. First, Peter Thompson (not a Mormon) would be appointed as a third Trustee of FES and second, Gary Brummett would be evicted from the ranch.
On June 17, 2002, the Trustees executed a note and Trust Deed in favor of Kierstead. The amount of the note was $533,000. The terms of the note were structured with the sale of the Norman Road properties to Gibson being foremost in Kierstead's mind since the repayment terms called for two balloon payments of $125,000.00 due on September 1, 2002 and a similar payment on January 1, 2003.
On June, 18, 2002, Gibson met with Kierstead to discuss Gibson's purchase. Kierstead was totally positive and strongly encouraged the sale. Indeed, according to the terms of the promissory note, Kierstead was supposed to have given FES $10,000 to prosecute a quiet title action but he never complied with his own note. Therefore, the sale to Gibson still could not be consummated, once again frustrating Gibson's contract.
Soon after Thompson's appointment as Trustee a serious rift developed between the Trustees with Cermak and Thompson on one side and Prescott on the other. On August 3, 2002, Cermak and Thompson fired Kierstead's friend Prescott for malfeasance. After that Cermak and Thompson along with Gibson created a manner which would insure that Gibson could eventually purchase the Norman Road properties. This included payment of $2,000 earnest money, execution of a promissory note in the amount of $223,000.00 and a six year lease option on the Norman Road properties.
Then Kierstead's real plan to obtain the ranch, became obvious on August 15, when he filed a judicial foreclosure action against FES even though FES was not in default! The only one in default on the note was Kierstead himself because he failed to give FES $74,000 due under the note and allocated for operating expenses, an action to quiet title, and payment of property taxes and insurance. The Josephine County Circuit Court Case No. assigned to this case was 02-CV-O351.
Meanwhile it must be noted that the residence located at 199 Norman Road was in deplorable shape, because in 2000, Fritts gutted the place. The cost of necessary repairs was estimated to be about $50,000 just to make the residence habitable. As of the date of this publication Gibson has spent over $34,000.00 in making repairs, reportedly all with Kierstead's knowledge.
Then in November, 2002, Prescott filed suit against FES claiming the true owner of the ranch was FGT (an absolutely criminal enterprise) of which he was the sole remaining Trustee. That was in Josephine County Circuit Court Case No. 02-CV-0522. Now FES and Gibson had two separate lawsuits preventing them from completing the sale to Gibson, once again frustrating Gibson's contract using the court system as a possible agent and / or co-conspirator. In reality, FGT was merely the alter-ego of Rick and Karla Prescott who used FGT as a vehicle to deceive people into investing big bucks with their phony trust(s).
One of Prescott's finest examples of thievery and waste was the 10,000 square foot, million dollar log home he abandoned half way through construction at a complete loss of $500,000 in investor funds. The house stands in ruins today as a monument to what has happened and continues to happen within the Deer Creek Ranch debacle. The house was meant to be Prescott's personal residence, not as housing for investors or other visitors to the ranch.

Prescott's million dollar half-way finished log home.
The court cases dragged on until January 14, 2004, when Judge Michael Newman wrote a letter opinion in case No. 02-CV-0522 awarding FGT all seven parcels making up the main ranch, but leaving the Norman Road Properties and the ranch equipment to be decided at trial. Newman accepted fraudulent documents from Prescott's and was either duped himself or totally incompetent. Why in the world would Newman award property worth approximately 3 million dollars to a criminal enterprise? Newman even gave Karla Prescott writs of assistance, obtained ex-parte with phony documents (proven to be in court), in the name of an entity, National Surety that was fraudulently inserted into the final judgment in the Fritts/Prescott case by Prescott's attorney Russell Bevans. Wow, National Surety wasn't even a party to the case! These writs of Assistance, at Sheriff's gunpoint allowed Karla Prescott to seize personal property such as tractors, ATV's, etc., etc. Newman allowed Karla Prescott to testify under "power of attorney" instead of her husband, thereby making hearsay testimony real testimony. I guess Newman thought after staring at Karla Prescott long enough that he had the power to amend the law.
At this point the Trustees of FES felt that they had no choice but to file bankruptcy to have any chance of preserving the seven parcels. That is what they did on January 20, 2004, in Bankruptcy Court Case No. 04-60346-fra7. That filing turned out to be a huge mistake as will be explained below. At first they filed under a Chapter 11 repayment plan. However, upon the motion of the now active Trustee for FGT, Karla Prescott, wife of Rick Prescott and daughter of Gary Brummett, she moved to have the voluntary Chapter 11 converted to an involuntary Chapter 7 which the court granted even though Judge Frank R. Alley stated at the conclusion of that hearing that he "could not believe a word I heard today." Once the case became involuntary it could no longer be dismissed by the Trustees of FES and the trap was set. Again, why in the world would Judge Alley rule for the best interests of a fraudulent entity/enterprise?
A new Bankruptcy Trustee, Ronald Sticka, was appointed to the case in March, 2004. He did very little over the next two years until just two weeks prior to this publication in the Observer, except for filing a "substantive consolidation" motion in June, 2004. Judge Alley ruled in favor of the "bad guys." Alley might just as well have said, I know these guys are bad, but I'm doing nothing about it. Gibson wrote a letter to Sticka on May 25, 2004. That letter reminded Sticka of Gibson's commitment to purchasing the Norman Road properties and asked for a case status reply and a response. Sticka never replied.
In Bankruptcy law it is one of the Trustees duties, if not his main duty, to protect and gather the assets of the debtor (FES) to the degree possible. He did little in that regard even when he had Gibson making a written offer of $225,000.00. Instead, he worked hard to do nothing until two weeks ago on June 7, 2006. When he did do something it reportedly turned out to be a horrendous violation of Bankruptcy law. He went behind Thompson's and Gibson's back and made a deal with Prescott's and FGT wherein he accepted a measly $17,000 from FGT to get out of this whole case. What about the $225,000.00 Gibson offer, which was frustrated numerous times? In a recent phone interview with Ronald Sticka he stated that he actually tried to keep the assets of FES within their bankruptcy case but that Judge Alley wouldn't allow it. Why? Why? Why? The bankruptcy was that of FES and no one else…
Thompson and Gibson have informed the Observer staff that Sticka's problems are far from over as they are about to sue him and others on grounds of breach of fiduciary duty, fraud, Rico violations and probably more. Sticka claims his hands were tied by Judge Alley, so this case should make one heck of a read. It should be noted that Trustee Sticka, in a motion filed in U.S. Bankruptcy Court on June 7, 2006, states, "Upon payment of the $17,000 Ronald R. Sticka, Trustee, will execute a Bill of Sale, without warrantees and "As Is" to Fountainhead Global Trust for all personal property assets of Fiduciary Educational Society and will release Fountainhead Global Trust and its agents of and from all claims." How in the world can a bankruptcy Trustee give anything to a criminal entity (FGT), one that isn't registered with any appropriate agencies and one that has been an intricate part of a criminal enterprise for years. Many millions raised by the scam artists in this article were funneled through FGT. Sounds like the U.S. Bankruptcy Court, District of Oregon had better get back to the chalkboard! Fountainhead Global Trust, which translates to: Rick and Karla Prescott, who have never been registered as a trust, business or any other type of entity in the State of Oregon. To do the type of business they were doing in Oregon requires registration with the Corporations Division of the Secretary of State's Office and nationally with the Securities and Exchange Commission.
What ramifications does this have? It means plainly and simply that the state and federal courts have been making decisions favorable to these crooks when, since they are technically non existent, the courts have not even had the power or jurisdiction to rule on anything regarding the phony FGT trust that is merely a money laundering vehicle. Once again the court system merely confirms the ever growing public opinion that justice is a word of the past. Jay Leno said it best on the Tonight Show when he was talking about Iraq's difficulties in forming a constitution. He said, "Why don't we just give them our constitution? Were not using it anyway." Funny, ironical, but very sad indeed.
Now to go back in time for the conclusion of this first article. On or about June, 2005, Kierstead made a Motion to Dismiss his judicial foreclosure action in order to avoid further judicial action and pursue a foreclosure by advertisement and sale. That type of sale is conducted without judicial supervision. On July 29, 2005, that motion was granted by the state court in Case No. 02-CV -0351. By Kierstead's attorney's own written admission Defendant FES was not notified of that motion until later on that fall.
Oregon law requires that anyone having any type of interest in real property be notified in writing at least 120 days before the date of sale. Gibson was never notified until four days before the sale and even then only Thompson notified him.
The second apparent illegality regarding that sale was the fact that FGT (Karla Prescott) had secretly sold the seven parcels comprising the main ranch to Western Rivers Conservancy on April 1, 2005. First, that was contrary to bankruptcy law because the stay was still in effect. Second, that action begs the question, why was it necessary to conduct the January 10, 2006 sale? The place had already sold. This is solid evidence that the second sale was seemingly fraudulent, a product of the larger, alleged conspiracy between Kierstead and Prescott.
Third, at the sale Western Rivers Conservancy opened the bidding for the seven parcels. The opening bid was in excess of two million dollars. Sold! Next, the Trustee, William W. Bromley and his cohort, Judson Carusone, from the law firm of Bromley-Newton in Eugene, announced that they would be selling parcels 8 and 9, the Gibson properties. What! First, it is Oregon law and common sense that when you sell a multi parcel piece of property you can only sell the number of parcels necessary to satisfy the liens and the Trustee fees. Second, these properties had already been legitimately sold to Gibson by FES via the valid lease option. In other words this sale was nothing less than the product of an apparently fraudulent conspiracy.
At the bogus sale Kierstead was the successful bidder on the Norman Road properties for the sum of $300,000. That led to Bromley recording a deed on those properties in favor of Kierstead on January 30, 2006. This led to Kierstead filing an eviction proceeding against Gibson and Thompson towards the end of March in case No. 06-0075C. However, every judge in Josephine County except Newman ended up recusing (disqualifying) themselves from hearing the case. At that point Judge Rebecca Orf from Jackson County was brought in to hear the case. Prior to that Gibson and Thompson had informed the court in writing that the hearing would require two full days, but in fact, because of the following the hearing lasted only 3 hours.
At the hearing the first obvious issue that Gibson and Thompson brought forward was the fact that since the sale was illegal then Kierstead was not the lawful owner and obviously only the lawful owner could evict someone from the property. After some haggling over that issue Orf held that issues of ownership could not be considered in an eviction proceeding. What! Does that mean that a person with no interest in property could evict a person from property rightfully owned by them? Next, Gibson and Thompson argued that there was never a landlord tenant relationship between them and Kierstead which was perfectly true. That argument also was not accepted by Orf. Next Gibson and Thompson brought up the fact that ownership of these two properties was still at issue between FES and FGT in case No. 02-CV -0522. After reviewing that file Orf appeared appalled that there was already a pending case regarding ownership. However, then she claimed she could not find the court order in that case, when in fact it was right where it belonged in the file. As if these rulings were not bad enough, Orf then did not allow Gibson and Thompson to take the stand and testify. Moreover, she would not allow them to cross examine Kierstead. What ever happened to due process and the constitutional right to confrontation of your accusers?
On the way out of the courthouse Orf told Gibson "You should get a good lawyer." Well, first of all Thompson has a Doctorate of Jurisprudence (law) Degree from Willamette University and has been involved in the legal profession either as a trial lawyer and / or paralegal for 23 years. What ever happened to the constitutional right to represent yourself Judge Orf?
Orf actually issued an order of eviction against Gibson and Thompson. Soon thereafter Gibson and Thompson appealed to the Court of Appeals in case No. CaNo.A131978 and filed a Supersedas Undertaking in the amount of $3,000.00 in order to avoid the eviction order and remain in possession of the property. Why should someone have to pay $3,000 to remain in possession of property that is already rightfully theirs?
There are hundreds of innocent victims in the larger scheme here. The Observer invites any contact from those victims and / or others having knowledge about these scams. By the way, two of these scoundrels, Fritts and Prescott, were charged last fall on 23 counts of tax evasion. Their trial was to begin on July 11, at the Medford federal courthouse, however as we go to press we are informed that it has been set over to December.
The US~Observer has recently been informed that there are tens of millions of dollars hidden that Leroy Fritts and possibly others allegedly absconded with. Other information gathered during our investigation would suggest the money actually is well hidden and we have a very good idea where the funds are. We will be scheduling a trip to this exotic Island in the near future to verify our information.
Editor's Note: We recommend that readers begin saving editions of the Observer as this sickening story further unfolds. Only in this manner can readers understand and see the full picture here. Our next article will focus on the victimization of Fung and Thompson amongst other things. Any other victims or those with information should come forward now! Contact Edward Snook at 541-474-7885.