By Joseph Snook
Investigative Journalist
October 6, 2010 marks a day that will forever be remembered by many residents of Bend, Oregon. As attorneys, prosecutors, supporters and family filled the Deschutes County Courtroom; Judge Stephen Tiktin announced a sweeping verdict in a rape trial that lasted five long weeks. For Defendant Kevin Driscoll, the five week trial conclusion was bitter-sweet.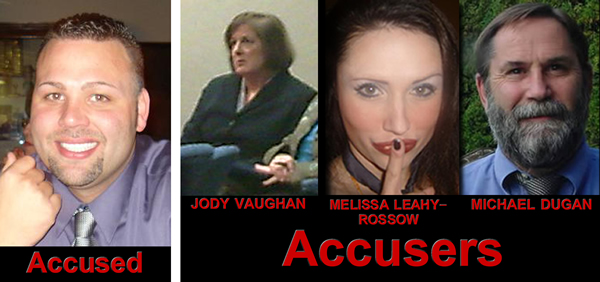 Driscoll, who was arrested for the alleged rape of Melissa Leahy-Rossow, almost two years prior, had already been through one trial last September, ending with a hung jury, leaving his life in limbo while he awaited a second trial this September.
During the course of our in-depth investigation, we exposed horrific flaws by police detectives, mainstream media, Deputy Prosecutor Jody Vaughan, District Attorney Michael Dugan, Melissa Leahy-Rossow and Sexual Assault Nurse Examiner (SANE) Kathy Wade. Our investigation showed they conspired to convict an innocent man – Kevin Driscoll.
After reviewing all of the evidence, it became apparent that Jody Vaughan and her tactics were not only unlawful, but malicious. Even more unjust, was how District Attorney Michael Dugan could condone such actions. Dugan ignored warnings from the US~Observer, he ignored conclusive evidence we provided, he placed his entire career on the line with the Driscoll case and he lost, not only his career, but his reputation as well.
"Three other women had accused him of forcing them into having rough sex"
– Cindy Powers, Bend Bulletin
The power of the mainstream media is very relative to legal cases and can be extremely dangerous. As quoted above, Cindy Powers of the Bend Bulletin, in her December 25, 2009 article, led the public to believe that Driscoll was not only guilty, she alluded that he had raped other women. What Powers has failed to report is that while questioning these women, Judge Stephen Tiktin not only disproved her incriminating statement, he found that that these allegations were completely false. Sexual intercourse between the two women, not "three" and Driscoll was consensual, according to the female's statements from the witness stand. It was also reported that Jody Vaughan had found these women and passed the information along to Bend Bulletin reporter Cindy Powers, who is a former prosecutor herself.
The local media had very little to say once the second trial ended, in fact the Bend Bulletin printed a quick four sentence blurb, announcing the verdict. Since January 2009, and until the second trial ended, their reporting was quite the opposite. The Bulletin and other media painted a guilty picture of Kevin Driscoll, who at that time was reportedly just another dirty rapist off the streets.
Driscoll was originally arrested and bail was set for $352,000.00. It was reported that detectives from the Redmond Police Dept. faxed a copy of the charges to Driscoll's employer, resulting in his suspension from his job of over 6 years with the Federal Aviation Administration (FAA). Driscoll found himself on house-arrest, jobless, and a rapist to his neighbors and nearly everyone else in the small town of Redmond, Oregon.
"Thousands wrongly convicted each year"
–American Bar Association
Instead of giving up, Driscoll hit the ground running, knowing his life depended on it. Driscoll obtained the help of the US~Observer, Attorney Ted Coran, online bloggers, his brother, investigators, friends and family, who all pulled together in their attempt to prove his innocence. After conducting our initial investigation, the US~Observer contacted District Attorney Michael Dugan. We explained to Dugan that with all of the evidence proving Driscoll's innocence, he should lay this case to rest before it hit the courtroom. Dugan had different plans – he stated in an email, "Truth is different from Fact."
During the first trial, Driscoll decided not to testify in his own defense, relying instead on the overwhelming amount of evidence in his favor. It was a move that ended up almost costing him his life. The entire story leading up to the second trial can be viewed at www.usobserver.com.
"Prosecution experts exaggerated, made honest mistakes or committed outright fraud"
– Study of Wrongful Convictions Raises Questions Beyond DNA
– Brandon L. Garrett, a law professor
at the University of Virginia
The second trial was one of the most distasteful examples of how a justice system should operate. On a positive note, I must say that Judge Tiktin was honorable and unbiased during this trial, which is something rare. Driscoll's Attorney Ted Coran, performed exceptionally well and I'd go one step further in saying that if you are innocent and trial is the only option you have, Ted Coran should be at the top of your attorney list.
During trial, Ted Coran exposed the fact that Melissa perjured herself. Melissa told Nurse Kathy Wade during her initial examination that her last sexual encounter was seven or eight days prior. Upon discovery of video surveillance Driscoll had outside his home during the night in question, coupled with testimony from Dennis Baker, that he had sex with Melissa just hours before the alleged rape, Melissa quickly changed her story. Sexual Intercourse then, became a definitive problem for nurse Kathy Wade, Jody Vaughan and Melissa. According to Kathy Wade, who testified she has handled 61 sexual assault cases, the term sexual intercourse was now defined as "erect penis into her vagina and ejaculation." This was a covert attempt by Wade, Vaughan and Melissa to ultimately save Melissa from being impeached, because none of her perjured statements matched with either prior testimony or the police reports. Reportedly, Jody Vaughan convinced Nurse Wade to lie many times during the trial. When Wade was called back to court for further testimony, she wouldn't answer her phone and ended up, "nowhere to be found"as Judge Tiktin stated.
Photos of Melissa's bruising became the next issue for the court. Jody Vaughan presented pictures of Melissa's bruises on what was referred to as "pink or some sort of purple paper" by Judge Tiktin, ultimately enhancing the color of the bruises. Attorney Ted Coran, had the same photos printed from Costco, and presented them to the court. Jody Vaughan became very upset as they weren't entered into evidence, even though they were on a CD that was entered as evidence, which she reportedly didn't want jurors to see. Judge Tiktin stated that the defendant's picture was "a lot more faithful reproduction of what a patient info form looks like." After viewing the photos, Jody Vaughan asked the judge if she could have the photos, "so I can have my officer do some work on them."
Two witnesses had testified to seeing the bruising prior to the alleged rape and expert testimony factually disproved Vaughan's arguments regarding the age of the bruises on Melissa. Expert witnesses and Forensic Pathologists Terry Haddix, M.D., William Brady M.D. (founder of Oregon's Medical Examiner Board) and Epidemiologist Michael Freeman PhD, all concurred that the bruises were pre-existing. Dr. Haddix and Dr. Brady both agreed that the bruises were 48 hours old to a medical certainty. Dr. Freeman reviewed all the case studies that he could find on bruising and coloring and stated that there has never been a case where yellow bruising occurs in less than 19 hours. He said any bruising with yellow color less than 19 hours old, would be almost impossible. The percentage would be 1/10 of 1%," but Vaughan thought she could enhance the color of the bruising, to make it appear that Driscoll had caused them. The expert's testimony, as well as eyewitness testimony, compared to the time of the alleged rape, made it impossible for Driscoll to have caused the bruising.
Redmond Police Officers, Chris Wick and Cory Chase were another set-back for prosecutor Jody Vaughan. Officer Chase reportedly stated he never lied to Driscoll during his investigation, nor did he lead Melissa into coerced answers during their interview. Detective Wick, who has been an officer for over five years and according to his testimony, "has investigated many serious felony cases," had a different story than Chase. Wick stated, "I was… I stepped on her answers or led her or suggested things, I believe that," referring to his taped interview with Melissa. It was also reported the officers failed to question other eye witnesses, and when asked why, it was because they had all the information they needed and other cases to work on.
"Over 90% of all criminal cases in the United States
are resolved through plea bargaining"
– All Academic Research
It didn't take long before members of the jury were seen rolling their eyes, when the prosecution was examining witnesses. At this juncture, prosecutor Jody Vaughan quickly picked up on their body language and held a meeting with Driscoll and his attorney behind closed doors, to offer him a new plea-bargain. Facing 300 months in prison if convicted, Driscoll was offered "NO" jail time in return for accepting a plea-bargain requiring him to register as a "sex offender." Driscoll, who has proclaimed his innocence all along, declined Vaughan's desperate offer.
Many more key statements have been left out, but the picture is quite clear to this writer, that Kevin Driscoll is not only innocent, he was being tried by someone who is an absolute disgrace to everything the terms justice and ethics stand for…
The Costs Associated With Prosecuting Crime in Oregon:
"The most significant growth in expenditures was the District Attorney's office which, on average, grew 32%. Deschutes and Grant County had the greatest growth at 55%, totaling a cost of $11,636,816.00 for Deschutes County in 2009"
– University of Oregon
At 9:24 a.m. on October 6, 2010, the jury was escorted to their chambers to deliberate. At approximately 10:52 a.m., they reached their verdict. Judge Tiktin pronounced the jury's decision, count one, unlawful sexual penetration, not guilty; count two, rape in the first degree, not guilty; count three, sodomy in the first degree, not guilty; count four, rape in the first degree, not guilty; count five, rape in the first degree, not guilty; count six, sexual abuse in the second degree, not guilty; count seven, assault in the fourth degree, NOT GUILTY! Not guilty on all counts.
"The criminal justice system in the United
States is notoriously fragmented"
–Northwestern University, School of Law
As court adjourned, 13 of the 14 (12 jurors, 2 alternates) jurors walked over to Kevin Driscoll, shook his hand, gave him hugs, then took him and his attorney to lunch. This is something I have never witnessed, nor heard of.
Had the US~Observer not investigated and printed the true story, or Driscoll's Attorney Ted Coran not done such an exceptional job, it is very likely Driscoll would be sitting behind bars today.
Kevin Driscoll's father stated, "I have come to the realization that the motive of the justice system is to stifle the true victim, keep him in jail with half a million dollar bail, confine his resources, destroy his livelihood, sending derogatory letters to his employer, get him fired, bankrupt his family, destroy his good standing in his community by releasing untruths and bias reports to the media, break him emotionally and financially by besmirching his good name, destroy his life, then offer him a plea-bargain that looks like a lifesaver in the sinking titanic and gloat over your win column, brag about your conviction rate and go on to the next victim. Thankfully Kevin did not relent to this treachery and was able to rally support from several avenues, friends, family and a very good upstanding lawyer with high moral fiber above reproach and the US~Observer for allowing him the option to continue a good honest fight against the injustice of the judicial system."
Today, Driscoll continues to face an uphill battle. His home is now in foreclosure, he and his family are nearly bankrupt after spending over one-hundred thousand dollars on his defense, his job with the FAA is gone, and his name is forever tarnished. What took days for District Attorney Michael Dugan and Assistant Jody Vaughan, combined with the mainstream media and detectives to ruin, has possibly cost Kevin Driscoll the rest of his life.
Writers Note: According to witnesses, Jody Vaughan stated after trial, "It's not over between Kevin and I."

It appears that the only crime committed was by the DA's office. The powers that be would have saved the tax-payers a reported $150,000.00 on the first trial, which didn't include DNA testing, and an additional estimated $375 – $400,000.00 in the second trial that included DNA testing and "so-called" expert witnesses, had they conducted a thorough investigation to begin with. After researching this case thoroughly and being fully aware of Jody Vaughan and her deceptive practices, it appears she has a much deeper issue.

A psychoanalytic theory as described by Sigmund Freud finds, "all humans have criminal tendencies; furthermore the most common element that contributes to criminal behavior is a faulty identification by a child with her or his parents." Perhaps, for Jody Vaughan, she has a disconnect with not only her parents, but the justice system and citizens of Deschutes County as well.

I would offer one piece of advice for Jody Vaughan, if she is fortunate enough to prosecute her next scheduled rape trial. Make sure you print your photos on non-color enhancing paper, and be absolutely certain your "alleged victim" knows the legal definition of "sexual intercourse" prior to taking the stand.
If you are innocent and facing prosecution – contact the US~Observer at editor@usobserver.com or 541-474-7885. We can help.