By Joseph Snook
Investigative Reporter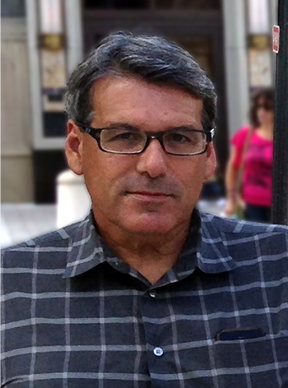 Manuel "Manny" Casares
© The US~Observer
Vero Beach, FL – For years Manuel Casares enjoyed the respect of his community. As a highly successful business professional not only did he financially advise nationally prominent money managers with their personal investments, he managed money for retired CEO's, and wealthy businessmen. He was intimately involved with a number of local charitable organizations, and was the former president of Indian River Land Trust during the Campaign for McKee Botanical Gardens. According to others, Manny is, "well known and widely liked."
These types of activities were just business as usual for members of his family and heritage. Manny was born in Washington D.C., the son of Diplomat parents from Spain and Ecuador. His Father, who worked at the Spanish Embassy was the son of prominent "hero" political journalist Manuel Casares Sanchez, who received the Civil Medal of Merit for his contributions in fighting Communism. Two of Manny's paternal granduncles were the lexicographers of the Ideological Dictionary of the Spanish Language. One granduncle, Julio Casares-Sanchez is considered to be, "the Webster of Spain, writing language translation dictionaries in 6 languages." Julio was fluent in 17 languages, having an academic career at the Real Academy of Spain and serving in the Ministry of State in several Foreign Service envoys including a delegation to Tokyo.
Manny's forefathers were one of the founding families of San Sebastian, Spain and served as scribes and knights of the feudal kingdom in medieval times. Today, the family home serves as one of the cultural centers of San Sebastian, Spain.
Manny's mother Caridad Casares Urgelles Puente shared equally in noble heritage serving Ecuador as Social Secretary (not security) at the Embassy in Washington D.C., then as a business development liaison at the Consulate in New Orleans, followed by being Consul General for Ecuador in London where her humor and liveliness got her personal invitations to dine with Queen Elizabeth. Her Father Jose Luis Urgelles Caamano, an attorney, left Spain where he was born, to work in Ecuador and develop the family land grants in the province of El Oro. Working for a large banana grower/exporter near Guayaquil, he moved to Havana Cuba where he married Caridad Puente Duany. Returning to Ecuador, he developed some family lands into five plantations, growing bananas, rice, cacao, and coffee. He eventually entered politics, becoming Ecuador's "Minister of Agriculture."
Manny's political learning was greatly attributed to his father's extensive home library. At age 16, Manny wanted to know why the U.S. was a republic. His father handed him a book containing the five dialogues of Plato including, "The Republic," (a discourse with Socrates). Abruptly, when Manny was only 18, his father died in an accident making Manny, "head of the household." His duties included escorting his mother to black tie functions at the U.S. State Department and other prominent Washington D.C. social affairs. Manny soon found himself socializing with presidents, ambassadors, Henry Kissinger and other prominent world leaders. The most lavish being the Shah of Iran's 50th birthday jubilee at the Iranian Embassy. Putting himself through college while working part time with some of Washington's best caterers, Casares overheard many closed door deals between congressmen, senators, prominent businessmen and even some Supreme Court Justices.
Realtor Ron Hughes
As Manny grew up, he continued living up to his family legacy. His life was full of family and he was a very productive individual in his community. His life as he knew it would soon change, dramatically. While purchasing a "historic" home in 2005, he entrusted a realtor who he is still in litigation with today. Casares bought the historic home advertised as "restored" by Norris & Company, soon finding out that the home was anything but, "restored."
The freshly painted home was not restored at all, the renovations, "hid the material defects" that negatively affected its value. Realtor Ron Hughes of Norris & Co. reportedly failed to disclose the flooding, hurricane repairs, termites, and water intrusion issues with Manny before the home was sold.
Shortly after purchasing the home, Manny was informed by professionals that it should be "torn down."Hughes as it turns out allegedly had other issues with non-disclosure of material defects affecting the value of homes he was selling. Casares informed Hughes and Norris of the issues and sought legal help from attorneys. Casares eventually compiled enough evidence begging the question; Does corruption in the legal system in Indian River County rival that of Cook County Illinois? Manny believes without any doubt that the answer would be, "yes."
After a year of wasting time with his first attorneys, Casares hired a Ft. Pierce attorney who filed a simple two element claim – Johnson v. Davis non-disclosure of hidden but known defects materially affecting the price of a home.
Attorneys who begged anonymity stated their firms had a policy not to take on cases like this one, where the unlawful acts of other attorneys had to be exposed for justice, for fear of the Bar finding any excuse to retaliate against them. Impartial Attorneys stated to Casares that, "as neither fraud, nor negligence were pled in his complaint, under Florida law defenses for either would be unlawful, impertinent, and subject to sanctions both for the defendant and his or her attorney. Norris' liability insurer knew, or should have known about Hughes/Norris non-disclosure issues as party to other suit(s) (the insurance agent was the spouse of a Norris principal partner)."
Defending claim under a, "reservation of rights letter", Norris' insurer, "threatened non-payment" if, immaterial, non-judicial fraud was proven (no plaintiff would have either as part of claim or case as either would insure non-payment by insurer exclusions). Owners and managers of Norris and Hughes under defenses controlled by their insurer asserted an, "unlawful negligence claim" and, "fraudulently asserted no knowledge of defects (which was impeached by 6 witnesses under oath in depositions)."
Casares' attorney failed to file a requisite motion (Fl. Statute 57.105) for sanctions against defendants Hughes and Norris and their attorney for the alleged fraud and negligence defenses. Negligence (when asserted as a count in complaints go to comparative fault under Florida law), would likely reduce Manny's ability to recover his losses by 40 to 60%.
Casares, forced to maintain a water damaged home eventually became ill form toxic black mold, hidden beneath the "freshly painted walls."Making matters worse, Manny stated he was eventually, "preyed upon by my (Manny's) own attorney and defendants in a conspiracy which included adding negligence elements language to my amended complaint without my knowledge. The amended complaint included a personal injury claim for mold injury and damages (excluded from coverage by insurer)."
After 9 years of legal battles, Manny finally sought alternative resolution to his ongoing legal issues. Deciding to take his case public, Manny contacted The US~Observer with hope of bringing justice to him and his family. All Manny originally wanted was to hold the realtor accountable. Now, Manny has discovered, "there are many more people involved than my original realtor – and the ability to get justice is largely obstructed by the good ol' boys who are 'deeply rooted' in Indian River County, Florida."
Editor's Note: Many names were omitted from this article until further investigations are conducted. If you, or anyone you know has any information regarding the people mentioned in this article, please contact the US~Observer immediately – this is an active investigation. You may reach us at: editor@usobserver.com or by calling, (541) 474-7885.