The debate may soon be over regarding the Sunny Valley strip club, Club 71, owned by Richard Larry Lacey. Local opposition residents, who have organized a community action group, held regular meetings and staged weekly protests have now brought their cause to the US~Observer where Editor-In-Chief, Edward Snook simply said, "It's now just a matter of time before these good people are vindicated, the club is closed, and Mr. Lacey is made to realize he can't just bully people and the system."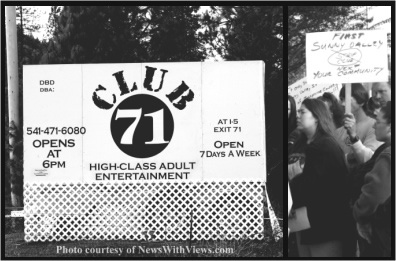 Lacey's previous restaurant, in the same location, Dirt Bike Diner, was unsuccessful and had issues with the wage and labor commission for non-payment of employees in a legal manner. Upon the closing of the Dirt Bike Diner, and over the following months, the idea for the strip club took hold.
Major interior and electrical changes ensued which included moving interior walls, replacing ceilings, creating new bathrooms, building a raised metal walkway covered in glass, and putting in new wiring. All done over the 4½ month renovation. Calling it redecorating he was able to clear the interior with county planning, who either didn't realize or were not that intent on making issue of the construction work that had taken place without permits.
Josephine County officials have chosen instead to pursue a building violation that Lacey committed by enclosing his already approved awning and patio area. The initial filing against Lacey by the County made him take down the metal sheets that enclosed the patio. Then County Planner, Terri Dickerson, came to review the site and it was then determined that the square footage was such that Lacey didn't need an independent engineer to sign-off on the structure, and the siding was allowed to be put back up.
Now, the County is asserting that by enclosing the awning and patio area Lacey has created a permanent expansion which would require permits to be filed. So the siding must come down, again, maybe.
According to club employees this tactic by the County has Lacey's patience wearing thin and he is very concerned with a court date that has twice been pushed back. On April 6th the County will address the numerous code and County Charter violations.
Representing Club 71 is local Grants Pass attorney, Dwayne Schulz along with an outside 1st Amendment specialist. According to club sources they plan to fight all the way on the grounds that the County Charter is unconstitutional, a tactic which has worked in other states.
But Club 71 faces more challenges than just the County. Recently, Washington Mutual has exercised its right to refuse service and they have told Club 71 that they must bank elsewhere. This, however, was just the Club 71 account and monies have been transferred over to the still existing Dirt Bike Diner account also held by Washington Mutual. Also, with the nature of the business, there has been a high turn-over rate with employees and there are now rumors of prostitution in the parking lot.
All of this, however, may be moot as many issues could prove to be Club 71's downfall. During the US~Observer's 3½ month investigation we have uncovered possible collusion with Mr. Lacey by one public official as well as Lacey's own attempt to "bully" his way through the issues by threatening key officials with pulling cable records and publicly disclosing who subscribes to adult programming. Furthermore, Lacey signed-off on County documents which contained false statements regarding key planning issues and then bragged to employees about doing it. 
He continues to pay employees "under the table" – this against the wishes of his management team who, from the beginning, wanted to run a professional, legal, business – and to their credit they have made every attempt to do so. At times they have even gone against Lacey himself, who was allowing his underage son into the establishment until they stepped in.
Should County Officials get serious, as they say they are, and contact Federal agencies like OSHA and State agencies like Bureau of Labor and Industries, there would be no way for Club 71 to go on as is.
Members of the Sunny Valley action group have stated that they aren't against Lacey having a successful business. They just don't want to see the business focused on flesh. "We just don't want this in our community," they decry. And to all of those who support the right for Lacey to have this type of business they say, "Sure. Just have him put it next to your house."
And with plans to expand closer into Grants Pass, local supporters may just get their chance. Lacey has been looking into buildings in the area and there has even been rumor that a building is already secured.
No matter the opinion on the establishment, the fact remains that Lacey did things illegally by not following County codes, by allegedly fraudulently representing himself and supposedly trying to blackmail county officials. Not to mention the questions raised about a home near the club that burned down and then was bulldozed before fire inspectors could complete their investigation.
With the legalities far from over, one thing is for sure, Lacey will be spending quite a bit on attorney's fees. Something that could perhaps empty his coffers. But then again, where does Richard Larry Lacey's money come from anyway? Perhaps something the IRS may be interested in.
Speaking on the overall situation, Edward Snook stated, "The committed people of Sunny Valley and County Officials will not let this business continue. Period. Looks to me like the party's over ."
Editors Note: Look for more upcoming articles on Club 71!