By Joseph Snook
Investigative Reporter
Yreka, California – On October 22, 2011, Defend Rural America – a gathering of people from across many western states – was held at the Siskiyou County Fairgrounds. This event featured the film debut of Kirk MacKenzie's documentary of the Klamath River Basin. The film also highlighted government abuse of Ranchers, Recreators and many other citizens. In attendance was Siskiyou County Sheriff, John Lopey and seven other elected sheriffs from Oregon and California.
Due to the current economic struggles across the nation, more and more people are taking an active role in being a part of the solution to a problem that has touched nearly everyone in the United States. With over 1,000 people in attendance, a large statement was made – "We are the people, this is our land, and we aren't going to allow our community to be hi-jacked by special interests of Federal and State Governments."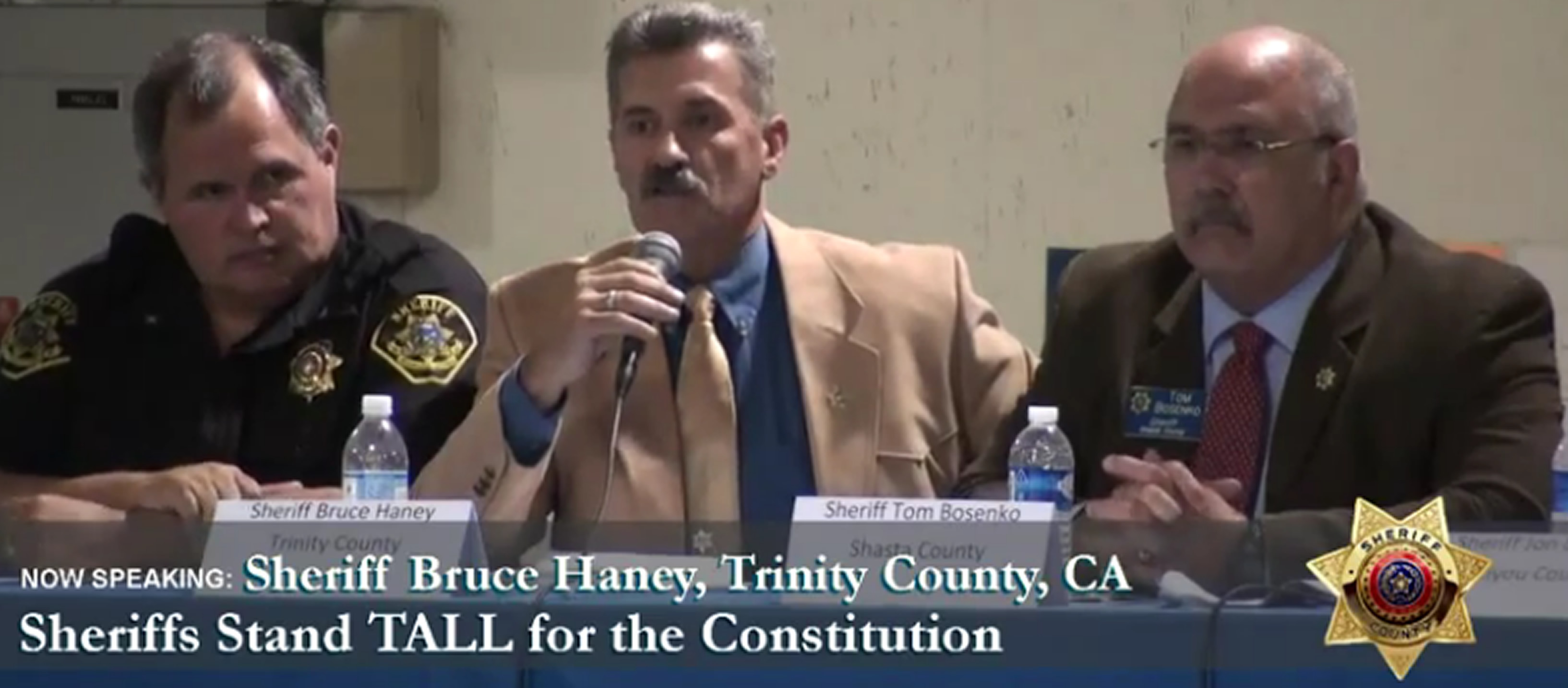 One topic of discussion was the United States Forest Service (USFS) Travel Management Plan, which if allowed, will illegally close public roads and according to many Sheriff's, jeopardize the safety of their communities. Another topic was the removal of Dams on the Klamath River, which will greatly affect irrigation for many farmers who are now the number one income producers in Siskiyou County, since logging is almost non-existent. Schools, failing policies, over-regulation, out of control Federal Agencies and many other topics were echoed throughout the event.
One person attending stated, "It is awesome to see such a vibrant and energetic bunch of people here." Another stated, "Having support from our elected Sheriffs gives me hope that we will keep our freedoms."
Directly from Defend Rural America's website:
"On October 22, 2011 something big happened.

"A new standard for grassroots activism was established as over 1000 people, 50 groups, and 8 sheriffs met in unity to save the Klamath River dams in Siskiyou County, California.

"Siskiyou County is ground zero in the battle to defend our food, water, energy, building materials, metals, and minerals against Big Government's multi-faceted and ever-increasing assault that will, if not stopped, ultimately destroy our nation's true National Treasury: our land, natural resources, and the hard-working farmers, ranchers, timbermen, and miners that are their true stewards; and end our self-reliance, sovereignty, security, and prosperity.

"The situation is far worse than most Americans realize.

"Mainstream media and government have kept this battle from the American people. Now, however, everything is revealed as the documentary film allows the people of Siskiyou County to give their first-hand accounts of what is truly at risk.

"The documentary premiered at the October 22 launch of Defend Rural America, followed by a panel of eight sheriffs and attorney Karen-Budd Falen, all of whom stood tall to Defend Rural America."
After the documentary concluded, a panel of sheriffs led by Siskiyou County Sheriff Jon Lopey each spoke on issues of their own. A video of the event, filmed by Robert Exter (who hosts Redding Patriots on YouTube) can be found by clicking here.
The Sheriffs in attendance at the Defend Rural America event were: Grant County, Oregon Sheriff Glenn E. Palmer – Trinity County, California Sheriff Bruce Haney – Del Norte County, CA. Sheriff Dean Wilson – Tehama County, CA. Sheriff Dave Hencratt – Shasta County, CA. Sheriff Tom Bosenko – Lassen County, CA. Sheriff Greg Growden and Plumas County, CA. Sheriff Greg Hagwood.
Sheriff Hagwood has also testified before Congress concerning important safety issues that were addressed at the Defend Rural America Event.