Sheriff Gil Gilbertson
By Ron Lee
Investigative Reporter
Josephine County, OR – Over the last few sheriff terms we were given promises of great community service and beefed-up patrols. Unfortunately for this community it never transpired and that administration quickly laid blame on the public for not voting for higher property taxes in the form of levies to increase its yearly budget. Now we have a new administration headed by Sheriff Gil Gilbertson, and again we were promised great things prior to his election and we are now faced with another possible levy.
What's new, you might ask? Everything. With the loss of O&C funding looming Josephine County, on a whole, is facing a crisis, and Gilbertson hasn't just made promises, he is keeping them.
Unlike the previous sheriff Dave Daniel – who seemingly still has the support of the Daily Courier and seems bent on weighing in by slamming Gilbertson in their letters to the editor – Gilbertson is working with the county commissioners to solve the departments funding problems. According to Sheriff Gilbertson, the commissioners are doing a great job and really have the best interest of the public in mind when making decisions about the direction of the county.
And also unlike his predecessor Gilbertson has already improved patrol in the Illinois Valley and the Northern areas including Sunny Valley and Wolf Creek.
It's absolutely clear Gilbertson is delivering on his promises and that his interest truly lies with continuing to create the best department he can for all Josephine County residents.

A Working Sheriff

According to Gilbertson he often works double shifts. Days are spent working administration and afternoon and evenings are spent on patrol backing up his deputies, attending public meetings and also community gatherings where he has been the focus of people's frustrations with the past administration. Gilbertson said to this, "The public wants to know that we'll do our jobs. I've heard from many people that it took days for deputies to take reports on burglaries, if at all. The people are frustrated. They want to know that when a report comes in, a deputy is going to get back to them and I'm assuring them that they can contact me personally should they feel nothing is being done."

A New Department
Committed to "Excellence in Service"
As part of his plan to revitalize the sheriff's department and give it a needed "face-lift" he wants the public to get more involved and invites them to sign-up for ride-alongs with deputies as well as animal control and also volunteer for search and rescue. Gilbertson stated, "This will allow people to get involved and see first hand what it is we do and what we are faced with. It's a great way to develop a rapport." Gilbertson has already put changes in place raising the cap at the jail without sacrificing safety and has his deputies on patrol in 3 zones to provide adequate coverage for county residents, something that has lacked in previous years.
Gilbertson along with his undersheriff Don Fasching are working toward streamlining the administration and hiring process and they are planning town hall style meetings for further public involvement in the department and their administration. "Hey, I want the public to know that we work for them. That's important to me," Gilbertson said of his desire to be as transparent an agency as he can be. To this end Gilbertson and Fasching are in the process of creating a "blue ribbon" panel made up of knowledgeable community members to hold them accountable.

Accountability
Both administrators believe that they and their deputies need to be held accountable for any questionable behavior and they are putting a plan together to inform the public on how to file a complaint should anyone in the department act inappropriately. According to a source inside the department who spoke on the condition of anonymity, "There was never one internal affairs investigation done by the previous administration. If someone filed a complaint a statement was taken, but that's where it ended and it was put in a folder and forgotten." While Gilbertson would not comment on what the previous administration did or did not do, he maintains that it is imperative to look into allegations of misconduct whether internal or external to protect the residents, his deputies and department. According to Gilbertson,
by not looking into allegations it could open the county up to litigation and would also threaten the relationship he sees so necessary with the public.

Ideas Abound
Gilbertson has ideas on how to be more proactive in raising funds for his department and they include being a very aggressive grant seeker, re-implementing the contracting of work crews, and the formation of a Justice of the Peace. Currently, all but a small amount of each traffic ticket written by a sheriff goes straight to the state. Only by having a Josephine County Justice of the Peace would the bulk of those monies generated stay here locally. As for grants, Gilbertson says he has several volunteers who are writing grants and he welcomes anyone else who would like to put their time in on this effort as well.
This administration is putting it's right foot forward and is making the needed changes to fulfill Gilbertson's promise to give Josephine County the best Sheriff Department possible.

On the Road
A personal experience with the sheriff
I walked into the public safety administration offices located on the bottom floor of the Josephine County courthouse, walked up to the sheriff window and asked for Gil Gilbertson. "Is he expecting you?" came the reply. I smiled and said yes.
Soon thereafter Sheriff Gilbertson poked his head out from behind a nearby door, smiled and said, "how you doing Ron?" He was dressed in, what some news publications have a peculiar front-page fascination with, a pieced together uniform that looked nothing less than absolutely professional. He joked how pieces of his uniform were still on order and made a motion for me to sit. "How are things going, Sheriff?" I asked. He kind of chuckled and said, "busy." For the next hour Gilbertson and I talked about the sheriff's department and his plans for its future. One of the main points he wanted to express was how important citizen involvement is and that he'd like to be open to having citizen ride-alongs. I suggested allowing journalists to ride-along and report on what they experience. To my surprise Gilbertson said he was going on patrol at 4 p.m. that day and he would be happy to have me join him. After the interview I cleared my schedule, picked up a quad vanilla mac. mocha from DB's, and headed back to the courthouse for what was going to be an eventful evening.
I met Gilbertson at his mud-covered patrol vehicle. A city officer approached us and began making fun of the condition of Gilbertson's ride. Gilbertson laughed and turned to me, "I really do need to get it washed. I just haven't had the time." As we set out on the road he went on to say that the vehicle had gotten muddy when he had recently been on a search and rescue call. As we pulled out onto 6th Street he told me we would be patrolling in the Williams area and then we'd head North before going to a meeting off of Jump Off Joe Creek Rd. As we drove we continued the interview, and shared ideas on pilot programs for the department when a call of a two-vehicle accident came in.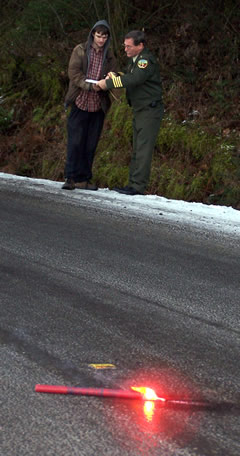 In no time we were on the scene and I was recruited to help with directing traffic. Luckily no one had been hurt in the ice-caused two car collision which resulted in cars spinning off into a ditch. Both cars had impacted a local resident's fence and soon the owner of the property came up to get information from the drivers. The property owner came over to me and told me that his fence had been destroyed in an accident the previous year and that he was never contacted by the sheriff's department at that time and subsequently had to pay for the repairs himself, something that should have been covered by the driver's insurance. He was pleasantly surprised to see that it was Gilbertson himself on the call and offered that he had voted for Gilbertson.
After the vehicles were loaded onto tow trucks and the incident was cleared we finally hopped back into the warm sheriff's bronco and headed north. On our way I asked Gilbertson if he had read the recent letter to the editor published in the daily courier written by Dave Daniel the previous sheriff which was less than flattering of Gilbertson. He laughed and said that he didn't want to stoop, so he had no comment.
Driving North on I-5 Gilbertson noticed a vehicle exceeding 80 mph on several occasions and decided to make the stop. I watched as he approached the driver, cautiously, but with a smile. After a few moments of conversation with the driver Gilbertson headed back. When he got in he told me he let the man off with a warning even though the man had initially started arguing with him until he realized he wasn't going to be ticketed. Away we went …
While I've been in this area since 1996 it was my first time in the town of Wolf Creek where we patrolled the local businesses, through the neighborhoods, and drove through the school.
Soon it was time for us to head to a public meeting off Jump Off Joe. Local residents had gathered to talk about recent burglaries in the area, and soon Gilbertson was being asked why deputies never followed-up on past reports, all of which occurred prior to Gilbertson taking office. Gilbertson shared with them his goal for the department and what they could do together to help each other and in all it seemed as if everyone left the meeting feeling better about the state of their county.
As soon as we headed out, a burglary call came across the radio. The home was nearby and Gilbertson parked down the street from the home. He told me that he wanted to see how long it would take for the deputy to respond. Within approximately ten minutes of the call being dispatched (within 5 minutes of us getting there), the deputy arrived and he was shocked to see the boss waiting. Gilbertson smiled and said of his sneak inspection, "I have to keep my guys on their toes!" The deputy took a report from the homeowner and was honest and genuine in answering questions and according to Gilbertson the deputy had done a great job handling the situation.
When my ride was done I had spent more than 5 1/2 hours with sheriff Gilbertson and all of it was good leaving me with a want to ride-along again. Hopefully sometime soon. As for the direction Gilbertson is taking the department, he has the want and will to make this a safe place for all residents and I for one don't doubt that he will if we support him.
Calling all Volunteers!
Public involvement in their own protection is a sure way to have a safer community and the sheriff's department has volunteer positions available.
Contact the Josephine County Sheriff's Office Administration at 541-474-5120 to see how you can help.
---
Edward Snook's Note: Sheriff Dave Daniel made many promises during his campaign – most turned out to be lies. I helped Daniel get elected, in fact on election night he told me couldn't have done it without my help. I deeply regret this mistake and I apologize to taxpayers for believing in Dave's lies. Gil Gilbertson hasn't made too many promises, but those he made he is keeping. To Dave Daniel I say good riddance; to Gil Gilbertson I say good luck.