Prineville, Oregon – On May 15, 2012 Crook County District Attorney Daina Vitolins will be elected to serve another term in office. The only word to describe any county that would allow such a person to serve in this capacity is Dysfunctional…
Vitolins attempted to prosecute Jerry Keller in 2011, on completely ludicrous criminal charges. BLM Ranger Benjamin Renfro had trumped up a case against Keller and he had quite an ally in Vitolins – his wife Tammara is Vitolins assistant. Keller had simply confronted Renfro about the expensive Hummer he was driving around Prineville, Oregon in off-fire-season. You see, Keller, even though he is one of the nicest men the US~Observer has had the pleasure to serve, also takes his duty to speak out about government waste, inequality and abuse very seriously.
When Keller came to the US~Observer, we investigated his case and then we delivered a mass publication to Crook County, Oregon, informing the citizens of the malicious actions taken against Keller by DA Vitolins. When Vitolins realized the public was aware of her abuses, she simply dropped the criminal charges against Keller and conspired with Judge George W. Neilson to convict Keller on an infraction, which is nothing more than a traffic ticket. This enabled Vitolins to use the unconstitutional practice of denying Keller his right to a jury trial. Read past in-depth articles on this case at www.usobserver.com.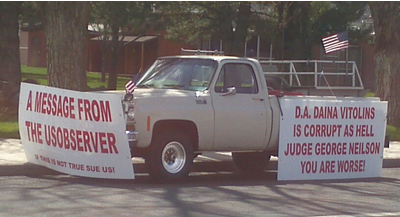 Well, the crooks in Crook County, Oregon tried to silence Keller and it hasn't worked. Keller is now making signs and exhibiting them in front of the Crook County Courthouse and in front of his property on the highway outside of Prineville.
We highly commend Jerry Keller for being responsible and we all cheer his efforts to obtain clean government. Responsible, concerned and accountable people are very rare these days, even in the ranching/farming community of Crook County. You are a hero to the US~Observer Jerry Keller…