By Kelly Stone
Investigative Journalist
(Ron Lee contributing)
USA – Most people associate Paul Allen with his great philanthropic deeds through his several outstanding foundations. While some might only know Allen as one of the founders of Microsoft, still others know him as the owner of Oregon's Trail Blazers and Seattle's Seahawks, but, many upset consumers know him as the controlling stock owner of the country's fourth largest cable company (according to ncta.com), Charter Communications (NASDAQ: CHTR). Allen owns approximately 52% of the stock and controls around 90% of the voting power as chairman of the board since purchasing Charter in December 1998. Since June of 2007 Charter Communications had 5,376,800 cable TV, cable high-speed internet and/or voice over cable (phone) subscribers, and some subscribers are getting fed-up with Charter's service outages, billing issues and poor customer service.
Subscribers in many states are so enraged with their "mis-dealings" with Charter Communications that they are posting complaints on legal web sites like medlawplus.com in hopes to spur a class-action lawsuit and others are filing complaints with the Better Business Bureau (BBB) causing the BBB to make this statement about Charter Communications (this comment
is regarding Charter Communications Corporate, for local ratings go to BBB.org and search Charter Communications in your area):
"Based on BBB files, this cable, digital TV, and high speed internet access provider has an unsatisfactory record with the Bureau due to a pattern of complaints and has failed to correct the underlying reason for the complaints. Complaints concern that the firm had improper billing practices, referred customer bills to collection agencies in error, provided poor customer service, used misleading advertising, provided defective internet or cable performance, used improper sales tactics or misrepresented the actual costs of installation and service, failed to properly install or maintain service, damaged customers' property, and failed to honor service appointments … The BBB processed a total of 2193 complaints about this company in the last 36 months, our standard reporting period."
In the June of '07 article, "The Best and Worst ISPs" written by Jeff Bertolucci of PC World, Charter Communications Cable Internet Service (ISP) was rated as worst against other companies who provide similar services. In fact it scored below average marks in all but two categories.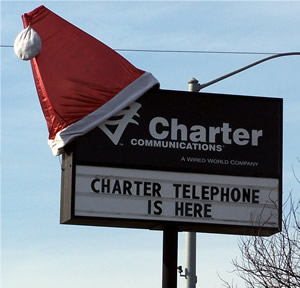 Charter Communications sign, Grants Pass, OR.
One elderly couple living in Southern Oregon, who had recently added Charter's Phone service to their subscription, had their service disconnected for "line upgrades" two days before Thanksgiving. According to the grandson of the couple who spoke with the US~Observer on the condition of anonymity, Charter had told his grandparents that their service would be back on the next day, but when it wasn't, the couple contacted the company through someone else's phone service and they were told their service wouldn't be on until after the holiday weekend. The grandson was concerned because the Charter Phone service was his grandparents only way to get in touch with family members and emergency services should anything happen. The grandson also stated that he has had issues with his Charter Communications provided services saying, "If you sign-up for a special promotion, they don't indicate that there will be any increase in price. You just have to pay it when you get the bill, or your service will be shut off." In a conversation with the grandson following the Thanksgiving holiday weekend, his grandparents' service had been reconnected.
A Wikipedia search on Charter Communications resulted in a page found with this history about the company:
"Charter Communications incorporated in Delaware in 1993. Through a series of acquisitions as well as internally financed growth, the company served one million customers in 1998, 3.9 million in 1999, and 6.8 million in 2002.
The company was involved in an accounting fraud in 2000/2001 (relating to the inflation of revenue and operating cash flow and cable subscriber numbers) for which four former executives were indicated in 2005. The company had been under financial pressure following a series of acquisitions; its stock peaked at $27.75 per share in November 1999, before falling to under $1 in 2002.
On March 22, 2006, Charter announced that it will sell cable systems serving approximately 43,000 customers in Nevada, Colorado, New Mexico, and Utah to Orange Broadband Holding Company.
Charter will also sell cable systems in West Virginia and Virginia to Cebridge Connections (now known as Suddenlink Communications) and cable systems in Kentucky and Illinois to New Wave Communications.
In 2006, Charter accelerated sales of cable telephone services using Broadband Telephony technology (or VoIP). Charter suggests a battery backup to reduce the risk of being without phone service in the event main power is lost.
Customer service representatives are reported to recommend a traditional plain-old telephone system (POTS) access line for use with medical devices."
On a corporate financial note, in a story written by Rich Duprey titled "The Chatter About Charter" which was published in August 2007 on the Motley Fool (www.fool.com), Duprey asserts that Charter has "nearly $20 billion of debt that it can't service, $81 million in cash, trailing revenue of $5.7 billion, and losses of more than $1.2 billion over the past 12 months."
According to some Charter subscribers this could be one of the reasons for their outrageous bills which are received after they have been "sold" by Charter personnel on upgrading their current level of subscription. They maintain Charter offers promotional rates for upgraded or new services and then doesn't make good on the promotions. In one case, a Southern Oregon subscriber upgraded his service only to find out later by Charter representatives that the promotion was never entered into their system and he was forced to pay an exorbitant bill. According to the subscriber, Ron Lee (contributing writer of this story) Charter dealt with the situation by crediting his account and ensuring that his level of service was what he wanted, but this only occurred after Charter received notice that Lee was a member of the press and was going to be writing an article regarding their dissatisfied customers. Lee stated on his Charter customer service experience, "When I was just a customer I couldn't get any help and was met with a constant run-around. At one point I was chatting on-line with one of their customer service reps on their web site and I asked for a supervisor's direct phone number. They said that they couldn't give out that information over the chat function for the sake of privacy. I found this odd as it was okay for me to submit a payment through this chat function divulging my personal information, but they couldn't give me a phone number? It was soon after I responded with that exact question to the rep that my chat session was terminated."
Lee stated that this was hardly the first time he had contacted customer service regarding his Charter account. "I have had many conversations with customer service, especially regarding the outages I was continually experiencing. I was being told that the problems were for my benefit, because Charter was upgrading their system to make way for phone services and also doing routine maintenance. I explained that I wouldn't be upgrading to their phone service, because if they couldn't provide the service I was paying for, why would I add another? Interestingly, the representative, who I recorded under Oregon one-party consent recording laws, admitted that she thought Charter was going to lose all of their Oregon customer's because of outages and service interruptions. She said, and I quote,'Oregon. Ha, ha, ha (laughing). Oh, poor people, Oregon. Oregon has had several, several, several issues with maintenance due to the fact that we are launching telephone in that area, and so the maintenance that is going on is us moving your head in from one place to another and splicing in new, um, (something said here) lines and things like that. All this stuff means nothing to you of course, but it is why your services are frequently down. … Medford got hit so hard with maintenance that I thought for sure that all of Oregon was going leave Charter. We had a lot of irate customers.' unquote."
In the recording of the Charter representative, it is stated,"The poor services you are receiving now is, uh, what is, uh, it's, it's supposed to and and it's happening to, in fact, better the service believe it or not, even though I know you don't see it that way. And I know it's extremely frustrating when you pay for a service and you expect it to work the way we say it would, then it doesn't work that way."
When asked if the representative knew if consumers were supposed to be notified of maintenance she gave this response, "Here's another thing that is probably going to make you have a small little coronary. That little yellow paper or that little pink slip that you signed when you first accepted Charter services, in the really fine print that no one ever never reads, we included, it says that from time-to-time services will go down due to maintenance and you, you are aware of this fact, um, by signing that paper … Sorta, Kinda we tell you that we informed you that it may happen, um, but we kind of leave it to you to read those itty-bitty words with a magnifying glass."
In a conversation with a Charter's escalation officer and a VP of communications where Lee informed them of their representative's statements regarding the fine print they both said that Charter doesn't have contracts, and that the only thing Lee could have possibly signed was an initial work order. They also maintain that they are very concerned about the customer experience, but in Lee's opinion they are more concerned with the appearance of good customer service than actually providing it. Lee said about correspondence he received from one of the executives, "I got an e-mail saying that they had looked into service issues in my area and that customers with similar services had minimal trouble calls. It went on to say that many had none reported in the past five years. I found that to be very interesting. As part of my research I went around my area asking about their Charter experiences. I found the comments to be predominantly negative toward Charter. This was backed up by ratings both locally and on a corporate level through the BBB where every Charter franchise that I looked at had an unsatisfactory rating and many customers with whom they hadn't even responded to."
According to Paul Walter of NewsWithViews.com, even Charter's corporate billing has issues. "We got a bill from Charter for commercials we ran and we paid it right away. Then all of a sudden we get another bill for the same thing!" Walter explained. He went on to say that he had to contact Charter to remedy the situation.
These complaints aren't just local to Oregon; they are nationwide in every market where Charter is the cable provider. For instance, complaints like those on the Class Action bulletin board titled "Charter Billing Practices" on the medlawplus.com web site include 42 posts since October 1, 2007 and include the following:
Back in September we added telephone to our current cable and internet services and the bundle was supposed to upgrade us to high speed internet, add HBO and Cinemax and with the telephone be a total of $119.97 per month plus taxes. It was going to add $16 to my current charges which was about $50 a month cheaper than having AT&T as our phone company. HOWEVER, we have yet to receive a bill for $119.97. I have been paying $125 a month which is close to what it should be with taxes, however now I have a past due bill around $200 with service charges. I have called, emailed and even spoke with a customer representative who told me that the reason my bill is $139.97 per month plus applicable fees is because I have HBO and Cinemax and some Movie View thing on my cable. I told her that it was part of the "Package" and she told me I needed to prove it by taking the original promotion card I received in the mail in early Sept. to my local office. Hello…. I don't have the original promotion card anymore. Why would I keep it?! So, from what I can gather, I'm stuck with a larger bill until "I can prove" what "their" promotion was. What a bunch of B.S.
Sherry
Michigan
---
I signed up for an online special for $14.99 for 5 meg for six months. When my bill came it was about $130! $65 for an overdue bill that I never received and another $65 for the current month! (These are approximate numbers because I do not have the bill in front of me right now.) Keep in mind, I signed up for a $14.99 special and this was the first bill Charter sent me so I am not sure how they can claim I was delinquent on a prior bill when there was no prior bill! Of course I called customer service and these people actually had the nerve to try and sell me other products while I was complaining. I was transferred to several different people who were of no help! Finally, an alleged supervisor got on the phone and told me that they never had a $14.99 5 meg special. I know what I signed up for because I did a lot research before I purchased the internet service. I spoke with a rep on the phone and did an online chat with two reps. They made me look like I was crazy because they denied ever having a $14.99 deal. However, the supervisor did try to sell me the same internet deal for $29.99. The nerves of these people, and why did they keep trying to sell me a bundle? Here I was, a pissed-off customer, and they were still trying to sell me stuff. Anyway, I have the email confirmation from my original order stating I would only be paying $20/month…14.99 for internet and $5 to rent the cable modem. I can't wait to go show them the email…I'm sure they'll make another excuse when I show it to them. Does anyone know of any class action lawsuit against them? After reading all of the comments on here, I am more mad. I think they are deliberately trying to rip people off.
Nancy
California
---
My situation is I made a payment online 11/5 for my Charter bill due 11/1. I received a confirmation number and receipt from Charter for the payment of $183.
A couple of days later I checked my bank account to see if the payment cleared the bank and found that TWO payments of $183 ($366 total) had been taken from my bank account. I went back online to check my charter account activity to see if I'd accidentally sent two payments by mistake. The activity log showed only ONE payment confirmation for $183…BUT…it showed Charter received $366.
I called Charter last week and the phone rep said he'd send a refund form to our local office and someone would call.
After receiving no call this week I called 888-438-2427 again and was told they would re-submit a refund request but it would take 6-8 weeks to get my money back. When I asked to talk to a supervisor I was put on hold for about 15 minutes and never did get to talk with a supervisor.
During the time I was on hold I logged onto Charter's online chat for assistance was only told to call 888-438-2427. When I asked for a phone number of someone who could actually help my session got terminated.
I called the phone number again and got a different rep who was actually sympathetic but could offer no further assistance than to re-submit the refund request.
The double hit of my bank account is Charter's mistake. There's no record I made two payments, even the Charter reps acknowledge that fact.
The reps tried to placate me by saying the extra payment was credited to my account. BUT, I needed that money to make other payments this month.
I don't understand how Charter can spend 5 seconds dinging my bank account but I have to wait 6-8 weeks to get it back.
Bill
Washington
---
Oh my gosh I cannot believe that there are so many people that have had the same problem as I have. I too got my first bill to be charged over 250 dollars for long distance I had since 9/14/07 and on 9/27/07 I got a bill and although everyone I talk to assures me they will help me I get transferred they have taken my number twice for someone to call me within 24 hrs and all of it are lies and now my bill just keeps growing and growing what will make them stop?
Kristi
Washington
---
I have been a Charter customer for 10+ years without any problems, so when the offer for phone/internet/cable tv for $89.97/mo for 12 months came around, I signed up. This was the beginning of the end.
Prior to this, the only issue I had was with the internet dropping the connection, but this cleared up on its own earlier this year.
When the first bill arrived after the bundle was installed, I was shocked to see it was $186.23. I realized that there would be some prorated charges in there, but this was way out of line. Upon inspection of the bill, I discovered that I was being charged $39.99 for 384k internet as well as $29.99 for 3M service. There was also a charge for a Modem lease, which I have owned for several years. A phone call to Charter seemed to clear things up for the most part, but the next bill was still about $5.00 over the bundle price that I signed up for. Another call to Charter again seemed to take care of this, but again the next bill was about $8.00 too high. Another call to Charter again seemed to do the job again, but the next bill would tell the story.
Half way through the next billing cycle, I called to cancel the 3 month free preview of the premium channels (before the 3 months was up). Somehow, this turned everything upside down again and the August bill was about $25.00 over the bundle price. Again, another phone call to charter (which I recorded) seemed to leave everything in order after going over and over it again with them.
Well, I am on Autopay, and have been for several years. When the due date of the August bill came around, I started monitoring my checking account. I became concerned when 4 days had passed and Charter's withdrawal had not shown up. Again, another call to Charter, and they assured me that everything was in order and it just hadn't shown up yet. Six days later, I again checked my account and was horrified to find that they had taken $216.63 out of my account. An immediate call to Charter got me no clear explanation, so I asked to speak with a supervisor. After being put on hold, the line went dead for 30 minutes, after which I hung up.
The next day, I went to see if my September bill was available online yet, and it was. What I discovered there was a Past Due notice that said the August amount was past due and the September bill was due immediately along with the August portion. I again called Charter and explained that I was on Autopay, and asked how this could happen. After arguing several minutes back and forth about this, and explaining to them that this is not my fault, I finally told them to GET THEIR EQUIPMENT OUT OF MY HOUSE IMMEDIATELY.
I am done dealing with a company that has no clue what they are doing. I then went and filled out a complaint with the Better Business Bureau. I can't believe they took September's bill out of my account without even notifying me! As I write this 3 days later, I still do not have the paper copy of the September bill. I will NEVER deal with this company again.
Mike
Wisconsin
---
Charter Communications maintains its commitment to its customers stating on their web site, www.charter.com:
"To further strengthen our customer relationships, Charter continually invests in customer care and service capabilities, striving every day to deliver high-quality, value-added services, support, and a quality customer experience. We provide convenience and compelling value through our triple-play bundle of cable television, high-speed Internet, and telephone services, remaining constantly focused on our mission of providing value to our customers."
While Lee is satisfied with the final outcome to his issues, he maintains his opinion that the solution was only due to his status as a journalist.
Lee said of his research into Charter, "Obviously there are a lot of people out there who have serious issues with Charter Communications, and many are making what could be considered accusations of criminal conduct against the company. You only have to do an on-line search to find it."
On a solution Lee said, "Hopefully Charter can turn things around before there is another class-action suit filed or the Attorney General gets involved. But, I hope Mr. Allen, who I have a great deal of respect for, will hear just how hurt so many feel by a company he is a part of that he will change Charter for the better. Only time will tell. Until then, a great many people will continue to feel they are stuck with their Charter experience."
For information on cable regulations go to www.fcc.gov.
If you wish to contact Charter directly:
Charter Communications
Telephone: (636) 207-5100
Fax: (636) 230-7034
Or you can e-mail the Charter Communications President & CEO, Neil Smit, directly at: Neil.Smit@chartercom.com.