By Edward Snook
Investigative Reporter
Also Contributing:
R. S. Errol
Investigative Reporter
Editor's note: This is the second in a series of articles involving multi-million dollar scams perpetrated by numerous individuals. This is the story of just one of hundreds of victims.
Sunnyvale, CA – Back in 1988, LeRoy E. Fritts, aka Roy Fritts and Roderick A. Prescott, aka Rick Prescott, revived a business called National Trust Services — NTS. They invited business owners and wealthy individuals to a free, one-hour seminar, enticing them with, "We will show you how the elites like the Rockefeller's and certain politicians use complex trusts (blind trusts) and charitable foundations to run their lives, gain wealth and you can do the same. Sovereignty to the People!"
In Gary Allen's landmark book, "Rockefeller File," the author stated: "All trusts are not equal. Only a handful of attorneys in the country know how to establish the type of trusts the Rockefellers have. These specialized trusts are most emphatically not the sort your friendly local solicitor can create for you. They not only can eliminate probate, cut inheritance taxes, and reduce income taxes; unlike corporations, they can achieve almost total privacy…With a little effort, taxes disappear." Think back to Nelson Rockefeller's confirmation hearing in 1974, when he announced the fact that he did not pay any income tax. Why can't we all be like Nelson? Maybe the elitists want to keep their methods private and maintain class superiority or could it be that the ordinary citizens are simply without the necessary money, influence and power to achieve this standard of living. The NTS information was intriguing to those people who wanted to move up the economic ladder and it seemingly provided a legal way to achieve upward mobility.
Tuition or "educational endowment" for this program was $9,500 cash for a two-and-a-half-day workshop under the tutelage of Fritts and Prescott. Newcomers were "educated" in the art of contracts related to the formation of Business Trusts in which to hold their businesses as opposed to standard vehicles like corporations or sole proprietorships. Additionally, the seminars initially provided detailed instruction regarding how to complete the IRS tax return Form 1041 incorporating the Trust Indenture, minutes and resolutions. As a result of this training, some clients felt confident enough to complete their own tax returns all the while living their lives in trust. Scores of successful and intelligent business people were unknowingly duped by Leroy Fritts and Rick Prescott due to their lies, deceptions and Fritts' near-hypnotic abilities.
One person who bought into the program was a well-educated ex-chemical engineer turned commercial real estate expert named Samuel S. Fung. Fung had achieved the professional status of Certified Commercial Investment Member (CCIM) thus being recognized as an expert in commercial real estate which was a rarity in his profession in 1989.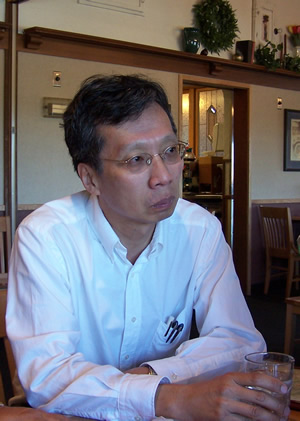 An innocent Sam Fung ponders false charges.
NTS, through its charismatic spokesperson Roy Fritts purported that their complex trusts limited liabilities and reduced the risk of lawsuits. Fritts often told anecdotal stories to his audience for the purpose of not only impressing them but more so in an effort to underhandedly mislead them into a mental state of acceptance where he and Prescott could then easily empty the clients bank accounts. Fritts stated that the Kennedy family's attorney told him that between the time that Mary Jo Kopechne died and before the Chappaquiddick accident was reported, valuable assets were drained from the Trust in which the car was held in an effort to avoid an attachment of assets. Fritts went on to claim that he was consulted about trusts by Dianne Feinstein while she was the mayor of San Francisco and he discovered how Feinstein and her spouse Richard Blum used business trusts to obtain many lucrative construction jobs with change orders signed by Mayor Feinstein. This alleged activity may have possibly created an estimated net worth of at least $38 million as reported in their 1992 and 1993 financial-disclosure forms. Included in NTS' extensive client base was the super wealthy Bogdanovich family, holder of Star-Kist Foods and the Heinz Ketchup brand. Following a workshop attended by Bogdanovich it is reported that he offered to buy out NTS so the program would no longer be available to the masses. It should be noted that the Bogdanovichs' reportedly had their Washington DC attorneys and CPA's validate the Trust programs before they made their offer. Their offer was subsequently rejected. In a recent interview Fung stated, "If I had any reservations about NTS they disappeared when I witnessed the Bogdanovich offer. I was even more interested in the program knowing that high-powered attorney's and CPA's had validated NTS."
In the early 1990's IRS Agent Dennis S. Brown was assigned to investigate NTS. In 1993, Brown led a raid on NTS headquarters domiciled in a Sunnyvale, CA house belonging to the parents of Rick Prescott. Fritts was living there at the time and used part of the home as an office for NTS. The IRS seized computers and other materials, which were reportedly later returned to NTS. This further validated NTS activities to Sam Fung, as any prudent person would believe that if the government returned "suspect evidence," then they must be condoning (legalizing) the activity.
Later, Fritts and Prescott contacted Sam Fung who at that time was an established Bay Area commercial realtor to find new office space for NTS. While performing this task it occurred to Fung that through networking with his new clients he could solicit the NTS client base for commercial real estate leads. Fung attended as many workshops as his schedule would allow in order to create real estate contacts.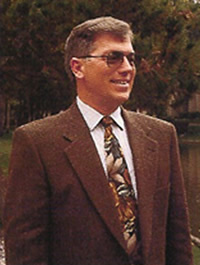 NTS spokesperson Roy Fritts
NTS' cult-like culture
Fritts and Prescott instructed their members/clients to refer their friends to the program and bestowed upon the members/clients the title of "Trust Counselor." Trust Counselors were compensated for their referral effort with commissions or a "referral fee." NTS also advocated the idea that a Trust Counselor could or should become an agent — Trustee — of their referred clients' trusts, performing duties and receiving further compensation from these trusts. According to many Fritts had an almost hypnotic ora about him. One client stated, "We all felt unbelievably elevated when Roy was with us. In retrospect, I can certainly understand how people are lured into cults."
In 1995, NTS formed Fountainhead Global Trust (FGT), an investment trust exclusively for NTS clients that offered huge annual returns. Fung also invested in FGT with a minuscule amount of money he was able to accumulate. One of FGT's phony investment vehicles was Cash for Title (C4T), a chain of car-title-loan pawn shops located in the southern Untied States. Fritts later claimed he was the silent owner of C4T and took credit for over 300 million dollars that were collected through the program. Investors were told their dollars were funding C4T when in reality the great majority of the money was being deposited into private bank accounts offshore. C4T was exposed and charged as a Ponzi scheme in 1999: SEC v. Homa Gause et al., case number: 99CV06895. Much of funds raised were eventually deposited with the Bank of Bermuda and this bank reportedly settled related money laundering charges for about $80 million by returning a fraction of the money to investors while the Securities and Exchange Commission (SEC) stated that the seizure was only a few hundred thousand dollars. What became of the remainder of the mega-millions? The missing money fueled the rumor mill regarding Fritts' half-a-million dollar Country Coach RV; Karla Prescott's shopping sprees to Rodeo Drive in Beverly Hills where she purchased clothing costing thousands of dollars and the jewel of their empire, the Deer Creek Ranch in Selma, Oregon, purchased with the embezzled funds of their loyal followers. Charles Homa and Michael Gause lived extremely lavish lifestyles off of C4T funds. Ultimately these two and several others were charged, prosecuted and sent to prison.
Fung, like most NTS clients was invited to attend investment seminars held in the Cayman Islands. Here, Fung came to realize that the total of FGT funds were beyond imagination and this revelation led to his failed attempts to convince the FGT Board to allocate funds for commercial real estate investment through his business.
In an effort to find NTS's money, IRS Agent Dennis Brown from N. Highland, CA issued summons letters in 2000, to Fung demanding his bank records. Due to faulty "legal" advice Fung sued Brown in U.S. District Court case number: C-01-4947-MHP in San Francisco attempting to stop the summons. Fung thought this was the correct course of action since he had little to do with NTS operations and he had no NTS money, hidden or otherwise. Assistant United States Attorney (AUSA) Thomas Moore defended Brown and won a judgment in Brown's favor. In accordance with Fung's attested affidavit dated 9/26/05, "while walking out of the courtroom with a smiling Brown at his side, Moore screamed at me, "Fung I am going to get you! I am going to get all you NTS people!" Fung was astonished at Moore's overt and unprofessional display of contempt and vitriol. It is obvious from Brown's actions that he bought into the false allegations that the Prescott's and/or others leveled at Fung. In other words, agent Brown was sent on a "wild goose chase" by sophisticated criminals.
The Prescott's and Fritts fight
at Deer Creek Ranch in 1999
After much infighting regarding the control of embezzled funds in 1999, Rick Prescott along with his spouse Karla and some of their cohorts took off with absconded investor's money and headed to sunny San Diego with the intent of starting up a "new NTS": Trust Educational Services (TES). In an effort to kick-start the new fraudulent endeavor they charged clients $15,500 for their workshop. Roy Fritts, the odd man out, was left high and dry. Or was he…?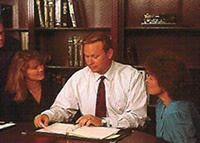 Karla and Rick Prescott with Pat Fritts
A friend of Fritts' contacted Fung and stressed his opinion that Fung should move to the Deer Creek Ranch in Oregon to assist Fritts because he had visited the Selma location numerous times and was familiar with NTS structures. Fung rejected the request out of consideration for his wife and their infant triplets. Coincidentally, Jackie Edlefsen from Wasco, Oregon contacted Fung to discuss Fritts' supposed dire situation but Fung successfully convinced Edlefsen that she should be the one to go to Selma and help Fritts. In 2000, Edlefsen and Fritts finally enticed Fung to leave San Jose and move to Oregon to work for them. Soon after Fung matriculates north he discovers that Edlefsen and Fritts had formed Hope Life Foundation (HLF) to be a mirrored image of NTS, whereby they excluded Fung from all but the fringe operations.
Subsequently, Fung's acquaintance Eric Aaron Lighter, a real estate developer from Hawaii, came to visit in June, 2002, intending to meet Fritts. Fritts invited them to his Merced, CA home-office and during this meeting Fritts allegedly bragged that Linda Gause (ex-spouse of Mike Gause, manager of C4T) had asked him to handle approximately $100 million dollars. Apparently, the SEC through negligence, inability or international legal restrictions failed to seize these funds. Fritts further stated that he could not spend the cache of money until a ten year period of time had elapsed in an obvious awareness of the ten year statute of limitations imposed for this type of criminal activity. Fritts then reportedly and accidentally discovered that Edlefsen had attempted to relieve him of some of the funds by requesting wire transfers to her personal bank account from an offshore source. Honor among thieves?
Now living in Oregon, Fung frequently commuted to his San Jose, CA office in order to tend to his commercial real estate business. In 2002, he commenced an additional commercial real estate practice in southern Oregon. In December, 2003, the U.S. government sued Fung on a permanent injunction related to Fung's assisting people with their tax returns through the use of his legally purchased software, case number: 1:03-CW-3123, while Fung was associated with an established commercial real estate firm in Medford, OR. Fung settled without admitting any wrongdoing. In March of 2005, the U.S. Attorney forwarded the last document to be completed by Fung that required Fung to divulge his clients.
During this time one of NTS' clients, prominent psychiatrist Irwin Gootnick, (author of "Why You Behave in Ways You Hate And What You Can Do About It" and a featured guest on the Oprah show) nominated Fung to be a trustee of Gootnick's trusts. According to Fung, Gootnick frequently called him while he served in this capacity, stressing about the possibility of IRS audits. As Fung began to become suspicious and questioning of Gootnick and his possible dishonesty, Gootnick reportedly informed Fung that he was opting for the services of a high-powered law firm in San Francisco. According to Fung Gootnick let it be known during one conversation that he had under-reported a large amount of income. At this juncture Fung ended his relationship with Gootnick. Fung then blew the whistle on Gootnick in the aforementioned AUSA document request of Fung's clients in accordance with Title 18 USC on or about April 27, 2005, which requires anyone with knowledge of a crime to report said crime to the proper authorities. However, many times when reporting crimes against protected individuals the report gets lost in a three card monty.
The U.S. government eventually sued Roderick Prescott and TES in case number: 02-CV-0692-L. During this lawsuit, Prescott made false statements against Fung in an apparent attempt to deflect his personal liability by implicating an innocent individual. These statements proved damaging as Fung was arrested along with Fritts and Prescott on August 3, 2005. The grand jury indictment dated April 12, 2005, case number: 5:05-cr-00215-JW stated that Fung had knowledge about and aided and assisted in the preparation of false tax returns for a dozen NTS clients. However, Fung, like hundreds of other victims was instructed by Fritts and Prescott in what he thought was the correct and legal procedure for preparing tax forms.
The question begging an answer is why is Fung being charged instead of at least two CPAs who actually did most of the NTS clients' tax returns? Additionally, why aren't the other NTS clients, specifically those whom Fung assisted, being charged criminally if they filed false tax returns with or without Fung's assistance? Note that the clients provided Fung with their financial data and he merely entered the figures into his computer tax program which calculated the taxes owed. Selective and malicious prosecution comes to mind when pondering these questions. Perhaps the tax returns weren't false but it avails Fung to be a convenient target for government retaliation.
Later, when Fung found out his defense attorney was not working in his best interest, Fung filed documents alleging prosecutorial misconduct. His attorney resigned immediately. At that time, Fung learned that the new prosecuting attorney was none other than AUSA Thomas Moore who had publicly threatened him years earlier according to Fung's sworn affidavit.
Finding himself in the cross hairs of a seemingly vindictive AUSA and IRS agent Fung is searching for answers to more questions. Why did the government not take into consideration Prescott's motives for implicating Fung? Was this indictment payback for Fung's lawsuit against Brown in light of Moore's expressed blatant unprofessional conduct? Then again, why did agent Brown wait for more than a decade to bring these charges while doing nothing to close down NTS as millions were swindled from investors? Remember Brown initially raided NTS in 1993, eventually returning all the records to NTS without a referral to prosecutors. This act once again confirmed the legal status of NTS to Fung.
Emily J. Kingston, resigned as an AUSA shortly after being named to be Fung's original prosecutor and joined the private practice law firm of Sideman and Bancroft, LLP located in San Francisco. The Observer discovered that this is the same so-called high-power law firm that Irwin Gootnick retained after his relationship with Fung was terminated. Coincidence, or is this a blatant conflict of interest? Upon reflection, could this overwhelming conflict be the reason why Gootnick hasn't been indicted for alleged tax evasion and money laundering or again, just an example of the three card monty?
Note well that in the U.S. Bankruptcy Court, Hawaii, case number: 05-50023 and Adv. Pro. number 06-90001, Dr. Wing C. Ng, an attorney and CPA stated: "Gootnick continued to hide taxable income, by, among other things, failing to report same…The income generated and being 'hidden' or 'laundered' and in spite of Mr. Prince's legal advice, the Gootnicks continued with the NTS tax scam for more than two years, which may arguably demonstrate their criminal intent to evade taxes." Dr. NG continued, "In my professional opinion as a tax practitioner for twenty-eight years, I have not seen such brazen behavior on the part of a taxpayer to cheat the United States and the States of Revenue. It is just ridiculous." Ng seems to have discovered the very alleged conduct that caused Fung to become suspicious of the Gootnick's.
Shouldn't a reasonable person think that Moore, purporting to be an ethical person, would recuse himself from this case due to his past threats against Fung? In addition there may be a transparent protective barrier in the above mentioned law firm as Gootnick's attorney Richard Nelson is a former AUSA in Northern District of California. Could this also have some bearing on why Gootnick and his wife have never been charged with any crime to date?
Margie Paris, a criminal law professor at the University of Oregon, stated: "There's this old saying that a grand jury would indict a ham sandwich if the prosecutor wanted them to. When the grand jury declines to indict, it's really because the prosecutor doesn't want them to." How true!
Is wrongfully charging and harassing an innocent man like Sam Fung an outrageous act of malicious prosecution? It is general knowledge that during the years Fung has lived in Oregon he has been an active, contributing citizen of his community performing volunteer work, including acting as a director of a local non-profit organization, which has greatly benefited the community. He's a dedicated husband and a responsible father to his young children. It is our firm belief and strong contention that Sam Fung is an honest and upright person who believed he was acting both ethically and legally in everything he did. The Observer has obtained letters written by Fung to clients regarding dishonesty on their tax returns. If Fung had any intent to do wrong he certainly would not have addressed suspected wrongdoing. Scam artists/crooks don't confront wrong, they simply go along to get along in an effort to make more money. And, let's not forget Fung's suspicions of Gootnicks alleged dishonesty. Apparently Fung's suspicions and questions caused Gootnick to run to the protection of a law firm employing former AUSA's who undoubtedly still have close ties to the United States Attorney's Office in San Francisco.
Fung's story is convoluted with dark tones and shady characters that frequently seem to be moving from one side of ethical conduct to the other. Sam Fung was victimized first by people he trusted; now he's being victimized by the "legal system" in which money and power figure prominently. In retrospect the missing money seems to have been relegated to last place while Fung gets framed to look like a mafia don. As they say down at the hall, "good enough for government work."
Our run-away criminal justice system needs our full attention and we desperately need to restore honesty and accountability into our "halls of justice" however it remains to be seen if this can be accomplished in our lifetime. The U.S. Attorney's Office in San Francisco seems to have forgotten that a person cannot be a victim and a perpetrator simultaneously. Sam Fung invested thousands of dollars over the years with NTS and FGT and why would any prudent person with integrity invest his hard earned money into a scam if he knows it to be a scam. Leroy Fritts and the Prescott's stole Fung's money just as they stole millions from hundreds of other highly capable, yet deceived individuals and businesses.
This story is not unlike the case we reported about in May 2005, regarding Tedd Peck a recipient of the Purple Heart in Viet Nam while serving as a Swift Boat officer. Peck, like Fung was maliciously prosecuted by AUSA Thomas Moore. Peck was a victim of a fraudulent scam but Moore attempted to prosecute him based on perjured testimony to a Grand Jury by Karyn Fazio, the investigating IRS-CID agent. In this convoluted case Peck's tax preparer was never indicted or questioned by the testifying IRS-CID agent. In addition he was never audited or given a chance to rectify his returns. Our investigation of both cases is still ongoing and the complete truth will be exposed. It should be noted that while we publicly indict Thomas Moore for false prosecutions, it is not up to him but rather to his boss, United States Attorney Kevin Ryan to decide who to prosecute. And many times, even Ryan is directed form up above (Washington D.C.) concerning who he should attack. The bottom line is: The United States Attorney dropped seven major felony tax charges (the result of public pressure provided by the US~Observer) against Captain Tedd Peck because he was a victim and not a perpetrator. They need to do likewise with Sam Fung, for the very same reason…
At the very least, the US~Observer promises that all of those involved in the factually false prosecution of Sam Fung will find their names well known within hundreds of thousands of households across America and right at the top of Google and Yahoo's search engines before this tragic story ends.
Editors Note: As our investigation widens it is becoming vividly clear that the major criminals in the Deer Creek Ranch/NTS/FGT debacle is none other that Rick and Karla Prescott. Karla Prescott has escaped being charged to date even though there is overwhelming evidence illuminating her guilt. Karla Prescott greatly profited from embezzled funds over the years and she continues to profit with the help of individuals in the legal community. We are committed to exposing and ultimately ending her crime spree. The US~Observer would prompt anyone with knowledge of the events and or individuals involved in this article to contact Edward Snook at:
541-474-7885.