By Joseph Snook
Investigative Reporter
Medford, OR – After nearly two years of forced separation from her oldest daughter, Christi MacLaren finally felt relief when she found out last week that she would be receiving more time with her daughter. Christi has been fighting for her child since the young girl was four-years-old; long before a false "founded abuser" report was issued against Christi by Oregon's Department of Human Services (DHS) Child Caseworker Cori McGovern. McGovern had falsely claimed that Christi had "mentally abused" her own child for turning in a report of child abuse against the child's father, which was reported by the young girl. That false claim of mental abuse against Christi was later overturned by Cori McGovern's own superiors in a formal letter. Despite being cleared by DHS, Christi was not allowed to parent her child, and visitations were, until recently, supervised. All the while Christi's daughter was being made to live with the very person she stated had abused her; her father Sean Lenzo.
During the last day of trial between Christi and Lenzo over custody of their daughter, Judge Ronald Grensky shocked the court. He agreed to finally talk with the now six-year-old child about several key points raised during trial.
After meeting with the young girl, Judge Grensky ordered both parents to take polygraph exams. Specifically, he ordered that Sean Lenzo, the girl's father must pass a urinalysis test before he takes a polygraph. Christi was also ordered to do the same, even though she's never had any drug problems, unlike Sean, who was twice charged with felony drug crimes according to records and has admitted in a deposition to using Heroin and Methamphetamines.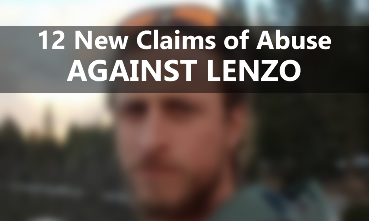 Lenzo will be asked about abuse during upcoming polygraph.
After the long years of back and forth in court, unfounded intervention at the hands of DHS, and time spent away from her daughter, last week brought a shining ray of hope for Christi, her parents, and her other daughter. In total, they have had the six-year-old child ripped from their care for almost two years because of the actions of one very troubled caseworker – Cori McGovern. McGovern's past work with DHS has cost the agency over $1 million when she was successfully sued in a separate case. McGovern was never fired.
Multiple experts had previously voiced concerns about the young child being around her father, Sean Lenzo. Victoria Bones, a licensed clinical social worker wrote a report recommending no contact between the child and her father – not even supervised. Child Caseworker Cori McGovern never acknowledged the report from Victoria Bones before removing Christi's daughter from her care in 2015. It is apparent still that the full weight of Bones' report has not impacted the court to the extent in which it should.
Last week, Christi's daughter finally had a chance to tell the judge who she wants to live with. Furthermore, the reports from professionals are part of the court record, and the lie-detectors will be completed in the near future. Until Judge Grensky makes a final ruling – Christi gets to finally enjoy her daughter once again – something she has waited years for!
When a concerned friend of Christi came to the US~Observer, Christi was only getting one supervised visit per week. She is now enjoying much deserved time with her daughter, including UNSUPERVISEDovernight visits – and rightfully so! Christi still has costly legal fees and a polygraph that she must pay for before her case is finally finished. Please help by donating to her gofundme account – you, or someone you know could one day need the same.
Editor's Note: Christi is enjoying being with her daughter, however there was way more than enough evidence presented at trial for Grensky to award sole custody to her. The US~Observer has received numerous complaints with accompanying evidence about Sean's Attorney Jamie Hazlett and her cozy relationship with Grensky and others in the legal system in Jackson County. Could this be the sole reason that this six-year-old girl's wellbeing is still in limbo?
Any prudent person would think that people in positions of power would at least be smart enough to make the right decisions in cases where the US~Observer is involved.