Survey Fraud & Shattered Justice in The Great State of Idaho
By Edward Snook
Investigative Reporter


Idaho County, ID – Seven long, stressful years have come and gone since the Walkers filed suit, believing the Idaho legal system would provide justice for them. Sydney's death on September 3, 2015 and Dorothy's stroke on April 9, 2016 can only be attributed to the "shattered justice in the great State of Idaho" and it is vividly clear that the cost for that "justice" comes at a very high price. Psychologists have stated that the extreme stress resulting from their experience with Idaho's legal system certainly contributed to Sydney's death and to Dorothy's stroke.
In 2009, Dorothy and her now deceased husband Sydney Butch Walker filed a lawsuit against Bessie Harmon, Etta Harmon, Ellen Hoiland, Dean Hoiland, and Elvin Harmon (Harmon/Hoilands) who were allegedly encroaching on Walkers' land. According to Idaho surveyors Pete Ketchum and Matt Mayberry and nationally recognized surveying expert Jeff Lucas out of Alabama, the Defendants in this case are indeed attempting to take Walker property and it seems that surveyors changing boundaries and monuments may be the cause.
The US~Observer has covered the surveying issues regarding this case in prior articles, which can be found at usobserver.com. We reported how the Walkers' original Attorney Dennis Charney out of Boise, Idaho charged Walkers exorbitant fees for work that can only be described as incompetent. We informed the public that the Walkers first two surveyors, Chad Erickson and Steve Wellington charged the Walkers $37,856.00 and $30,059.36 respectively for surveys that were factually wrong, never understanding the truth of the situation, performing surveys that were of no use to them. Erickson was subsequently charged with "Ethics Violations" by the Idaho Survey Board as the Walkers continued to pay and pay and pay.
Surveyor Carl Edwards
Carl Edwards was the original mastermind of this seven year dispute when he relocated the original SW Corner of Section 24 (Walker property) in 1977, which is proven by the surveying brass cap he set with his 1977 stamp on it. According to a number of surveying experts, Edwards set a new corner, while the original cornerstone was still in place, moving the SW Corner approximately 325 feet to the North and approximately 234 feet to the East of its original position contrary to all the evidence available at the time, including the original corners and boundaries set in the late 1800s by the US Government. This was done secretly; 9 years after the Walkers bought their property. Edwards' reasons for this move are elusive but have been summed up by one surveyor who calls it "absolute fraud". One very telling thing is that Edwards, at the time he did the survey work, failed to record nine corner perpetuations in 1977 as required by law. Edwards knew very well that he was required by Idaho Code Section 55-1604 to record them within 90 days. He did finally record them in 1996, some 19 years later – a clear law violation, making these "illegal" surveys. We can conclude at this time that Edwards had a reason(s) for moving the original corners in 1977 and he had a reason for delaying the recording and finally recording it in 1996.
Manufacturing Corner Stones
On May 4, 2016 a licensed Idaho surveyor submitted the following facts in a Declaration he signed under the penalty of perjury:
"In … a prior survey by Carl Edwards, in 2010….. I located what I believe to be a fabricated basalt stone at what Carl Edwards described as the SW Corner of Section 24, T30N, R3E,B.M. (herein referred to as "Stone B"). The volume of Stone B was about half the volume of the original stone as those measurements were reported by the original GLO surveyor, David Thompson. Stone B was mostly square (rather than having a length at least twice its width) and the volume of the stone was 50% smaller than the pillar shaped stone called for by the Thompson (prior surveyor) notes. As I examined the region immediately adjacent to where Stone B was located, I observed a nearby field which I learned through aerial photos had a history of cultivation of over 40 years. Further, I became aware that a rock pit with rock crusher previously operated in the vicinity. Further, Stone B had only two notches with nothing on what should have been the East corner. It appeared to me that the two notches were caused by agricultural equipment, such as a disc, marking the rock or by a rock crusher scarring.
After discovering Stone B, I had occasion to visit the office of Carl Edwards in Grangeville, Idaho and found that he had on display original stones and other memorabilia obtained from the field. It is apparent from the display and other facts and circumstances that Mr. Edwards was familiar with original evidence, thus he should have known that Stone B was not authentic. He should have known this because it was a freshly marked basalt stone without oxide or lichen in the notches; and, it was of the wrong size, shape, volume, dimensions and location as called for by the original surveyor. These facts make it apparent that the stone found by Carl Edwards in 1977 was not the original stone set by the GLO in the late 1800s at the SW corner of Sec. 24. 
Prior to July 25, 2011, in an email, I recorded the following information: (While in the office of Hunter Edwards, I observed what appeared to be an original GLO stone.) It was lying on the front counter, to the right, as you enter the front door. Hunter Edwards said that someone gave him the stone and he was going to return it to its proper place. He did not say where its proper place was located nor when he planned to return it."
Surveyor Hunter Edwards
Surveyor Hunter Edwards, son of Carl Edwards has had his hands in this dispute from day one.
In 2001, Hunter did a survey for the Harmon/Hoiland landowners, which started this dispute. Hunter didn't use the original corners, as per law, instead declaring the General Land Office (GLO) plat in error and then "setting corners where he wanted, which violates the Federal Manual of Surveying Laws, which has been adopted by the State of Idaho". This violates the bona fide rights that landowners, such as the Walkers have acquired, which lock in those boundaries. The law specifically prohibits later surveyors, such as the Edwardses from relocating boundaries – but, in this case, the law has been disregarded. 
In 2014, Hunter did another "illegal" survey of the Harmon/Hoilands neighbor's property. He reportedly moved their corners and placed roads where he wanted them to be for his clients' benefit. This survey was done without the permission or knowledge of the Walkers or other landowners. 
Court records and affidavits filed by Hunter show that in 2014, he "committed fraud on the court" by asserting that a path he designated on his "illegal survey" was an ancient "Wagon Road". This deception created the false impression that this "path" was a public access road across Walker property, which could then be claimed as an access road by the Harmon/Hoilands. Numerous surveyors have stated, if we were to accept Hunter's survey on this "path," we find that it actually falls off a "900 foot" cliff at one point; hardly a road used by wagons before the turn of the last century. 
In 2014, Hunter Edwards was caught trespassing onto the Walker's property. When Dorothy Walker found out that Hunter was on her property for a second time without permission, she had him escorted off their land by an Idaho County Deputy Sheriff. Hunter Edwards later stated in one of his Declarations, under the penalty of perjury, that Ms. Walker did not know he intended to move a permanent corner monument (in place and relied upon since 1902) 143 feet to the east and 60 feet to the North. According to witnesses, Hunter Edwards was supposedly forming an expert's opinion as to the correct location of the south line of Section 24 (Dorothy's land). Instead, he had gone at least a mile north of the south line when he was allegedly caught trespassing and was in the act of moving an ancient, permanent survey monument that had nothing to do with the south line.
Trespassing is a crime in Idaho, as this state has no "Right of Entry Law." Further, his entry on Walker property violated ethics rules set by the Idaho Board of Professional Engineers and Professional Land Surveyors (Idaho Board).
Several participants in this case have claimed that Hunter Edwards is a compulsive liar. In reviewing the record, we find evidence that Hunter Edwards does indeed lie and that he has no problem doing so in official recorded surveys and in Declarations filed in court for this case. In his November 17, 2015 Declaration, Hunter claims, "I have been ordered by the Board to complete my field work to enable the Board to evaluate my survey work; which is also necessary to meet the requirements and instructions of my client". In a subsequent Declaration signed by Executive Director of the Idaho Board Keith Simila on January 28, 2016, "under the penalty of perjury," Simila states, "I have caused a search of the records of the Board to be made and I have determined that the Board has not issued an order to Hunter Edwards and specifically, the Board has not issued any order to Hunter Edwards to "complete" survey work on the Dorothy Walker property in Sec. 24, T30N, R3E, B.M." 
Unfortunately, it appears that it is okay with the "shattered justice system" in Idaho for a licensed surveyor to commit perjury and commit fraud on the Court and there are no consequences for the perjurer. Apparently, the Board is unconcerned that one of their surveyors "commits perjury (lies)" in recorded surveys and in a Declaration filed in court. In this instance, the Board can't say they didn't have knowledge as their Director is the one who exposed Edward's lie when he stated in his Declaration, "I am aware that Hunter Edwards, in his Declaration dated November 17, 2015 stated: 'I have been ordered by the Board….'"
Hunter was a speaker at the Idaho Society of Professional Land Surveyors Annual Conference held in Coeur d' Alene, Idaho in March of 2016. Amazingly, on March 4, 2016, Hunter spoke on "Monumentation" and in his Bio he described himself in the following manner, "Gadgets & Gizmos Geek ~ Surveying Guru ~ Master of Monumented Corners – You can call me Hunter; Wizard in the land we know as Idaho." 
Hunter Edwards recently "found" what he called the "original stone", which he claims was exactly 184 feet from his father's monument on the west line of Section 25, immediately below the Walker section. For almost 100 years, surveyors have reported that this stone was lost. With Hunter Edwards having an original GLO stone in his office as reported above, the concern has been raised that he recently placed the stone in the field himself; especially since he had previously underreported the length of that portion of the west line by exactly 184 feet. Is there reason to believe that the Wizard of Idaho actually put this stone in place to save himself from being held accountable or responsible for lying about this distance – a distance which has a major impact on Dorothy's case? 
I'm certain that Hunter, who considers himself a "Wizard," wouldn't have incriminated himself like he has, had he known ahead of time that the US~Observer would be publishing this piece!
Enough said!
Idaho Board of Professional Engineers and Professional Land Surveyors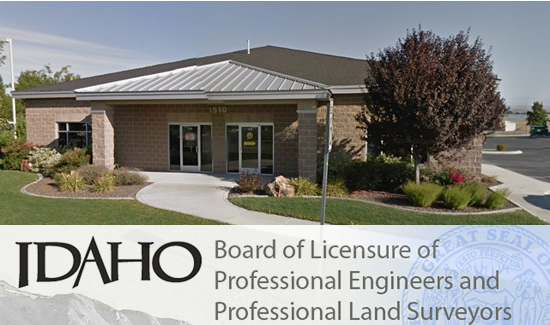 The Board is very aware that a surveyor is required to obtain permission before entering someone's property and it stands to reason that this law would apply equally to the Board. But apparently not – According to John Elle's written report, "on April 7, 2016, Idaho Professional Land Surveyor and Board member John Elle, accompanied by Executive Director Keith Simila, Hunter Edwards, Attorney for the Hoilands David Risley, and Thayne Hoiland son of Ellen Hoiland…. went into the field (on Walker property) so Hoiland could show us the location of where the stone and pile of rocks marking the S ¼ corner monument had been prior to the early 1990's… Keith went out into the field where the corner had been and positioned himself on a N-S line marked by the remnants of an old fence running through the volcanic vent area. Hoiland then positioned Keith on the intersection of this fence line and her sight line at the point where she had seen the old survey monument." 
Okay, so we have two members of the Board trespassing onto Walker property with two of the defendants in this case and their attorney, helping establish and working on defense testimony or evidence that is part of this case. This is remarkable in that Keith Simila stated in a December 23, 2015 conversation that the Board was only there to make sure surveyors followed the rules of ethics and that they didn't get involved in court cases or surveying disputes. In questioning Dorothy Walker about this incident where the Board and others were on her property, the obvious question was whether or not they had obtained her permission. Ms. Walker stated, "I did not even know they went onto the property. No one spoke to me about this and they didn't get any permission." It is noteworthy that the Board was allegedly trespassing onto the Walker's property, as were Hunter Edwards, Attorney David Risley and the Hoilands. Walker land is clearly posted and the punishment for a trespass in Idaho includes a fine and a jail sentence. Of course, as we are quickly realizing, even though it is illegal, it is okay in Idaho for people to trespass. Just as it's perfectly acceptable that the Board, who is only there "to govern ethics," is assisting the defendants in the Walker case with their defense.
Judge John R. Stegner
A close look at the records in the Walker case shows that Judge Stegner has contributed to the stress that Dorothy Walker has experienced. During a hearing held on December 14, 2015 Stegner stated, "Well, I think I can control this litigation in a way that enables Mr. Edwards (Hunter Edwards – the surveyor who caused the boundary disputes with Dorothy's neighbors) to do what he seeks to do at Mr. Risley's (the Harmon/Hoilands attorney) instigation." Stegner continues at the same hearing, "I control the litigation. If Dorothy Walker is being obstreperous in allowing Mr. Edwards to do his contractual duty with regard to Mr. Risley's clients (as the hired expert of the Harmon/Hoilands – locating the south line did not involve moving the northwest corner monument, unless Edwards had an ulterior motive), I think I can fix that problem." The Dictionary definition of obstreperous is: unruly, disorderly, undisciplined, uncontrollable, rowdy, disruptive, truculent, difficult refractory, rebellious, mutinous, riotous, out of control, wild, turbulent, uproarious and boisterous.
Having worked diligently on the Walker case for three years now, it was shocking when – during a hearing on July 23, 2014, that I attended, Judge Stegner ruled that Dorothy Walker could not testify as an "expert" in her own case. Stegner's ruling occurred when another Attorney objected to Dorothy's affidavit and the supporting documents, which pretty much proved her case. 
Idaho law allows knowledgeable landowners to testify as to the location of their boundaries; which could be considered an expert opinion. The court is to measure the weight to be given such testimony given the parties direct interest in the litigation, but not exclude it entirely. There is a question whether Judge Stegner will use some technicality to prevent Dorothy from testifying, even though her expertise as to her boundary locations goes back almost 50 years. As far as the name calling is concerned, Dorothy is anything but "obstreperous", in fact, she is an intelligent and brave woman who is standing up for what is right! 
Following up on the obstreperous comment, in a hearing of June 20, 2016 the official Court Minutes reflect that after Judge Stegner ordered that Hunter Edwards would be allowed to place "impermanent" markers on Dorothy's property, he again verbally attacked Dorothy: "Court stated that if it has any question that Mrs. Walker has moved those survey markers, then that will be a real problem for Mrs. Walker". Judge Stegner is implying that Mrs. Walker is the one who has moved markers in the past, when the record and reports establish it was Hunter Edwards and his Father Carl Edwards and their clients the Harmon/Hoilands who have moved and even destroyed markers. Stegner's threats against this lady are much more than unsettling, in fact, he owes Dorothy Walker an apology for his comments and for the absolute prejudice and disrespect he showed when he made these comments. Obviously, Attorney David R. Risley has garnered the judge's ear, or better yet his favoritism, as any suggestion of Ms. Walker "moving survey markers" had to have come from his side of the case, and they appear to have been manipulating both the Board and Judge Stegner. 
Stegner has done plenty more to Ms. Walker; including the $5,000.00 fine he leveled against her Attorney Wes Hoyt for not asking permission to amend Dorothy's Complaint (such a fine is enough to dissuade any lawyer from continuing to represent a client). The controversy occurred during a fairly convoluted hearing where the judge specifically instructed Attorney Hoyt to file an Amended Complaint and then later told him to first "seek leave" to file the Amended Complaint. From an objective observer's standpoint, one would think that Judge Stegner had already granted "leave;" but, it seems since he has been villainizing Dorothy, he already has his mind made up about this case before hearing the evidence; or maybe this is just how the "legal" system works in Idaho. I recently asked Attorney Hoyt for his take on the $5,000.00 fine and he refused to comment. 
At this juncture, this writer is left with some quite serious questions about motives and relationships involved in this case, as evidenced by rulings and statements Stegner has made to date.
Will Stegner provide justice or just more "shattered justice"? We will report!
Editor's Note: Due to motions filed by the defense in this case an additional eleven people have been named as Defendants, compared to seven when the suit was filed.
The citizens of Idaho should start demanding much more from their government. Give Judge Stegner's office a call at (208) 883-2255 and let him know that Dorothy Walker deserves justice. 
Anyone with information on anyone involved in this case is urged to contact Edward Snook at 541-474-7885 or by email to editor@usobserver.com.